Report: Cubs prospect Soler ejected for charging dugout with bat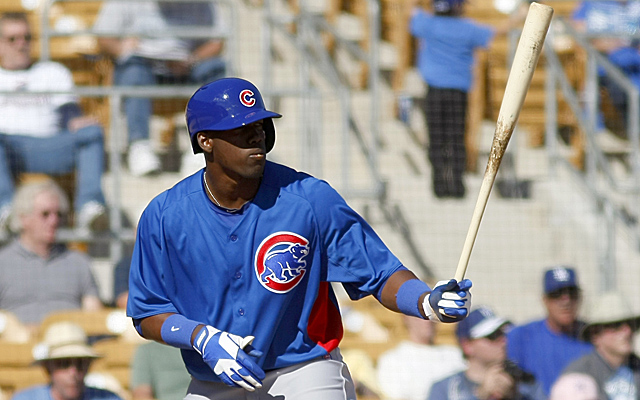 More MLB: Scoreboard | Standings | Probable Pitchers | Sortable Stats | Odds
Cubs minor-league outfielder Jorge Soler was ejected from a High-A game Wednesday night for reportedly charging the opposing dugout with his bat.
Josh Timmers over at Bleed Cubbie Blue was apparently watching the game on MiLB.tv and gave this account, with a hat-tip to the Daytona Cubs' broadcast team:
The incident occurred with the bases loaded and one out in the seventh inning and Daytona leading 9-7. Soler was on first base when Stephen Bruno hit a ground ball to shortstop. Soler went into second base and got tangled up with Clearwater second baseman Carlos Alonso, who completed the throw to first base for the inning-ending double play. Soler was apparently stepped on by Alonso and words were exchanged. Both benches cleared. No punches were thrown, however.

When everyone returned to the dugout, Soler grabbed a bat and charged the Clearwater dugout and went after Clearwater with the bat. He had to be pulled away and back into the dugout by Javier Baez and Daytona hitting coach Mariano Duncan. I initially reported that he had hit the walls of the dugout with the bat. That's unclear at this time. He was apparently swinging it in that direction.
The Cubs are aware of the incident and are "gathering information" and offered a good ol' "no comment" at this point to the Chicago Tribune.
And it seems like that's where most of us should be at this point. Surely video will surface at some point, a possible suspension will be handed down and the Cubs will offer up a statement once they've gathered all the information possible.
Until then, it's tough to fully understand what all went down.
Soler, 21, signed a nine-year, $30 million deal with the Cubs last summer after defecting from Cuba. In 39 career minor-league games before Wednesday night (levels Rookie, Low-A and High-A), Soler carried a line of .318/.390/.500 with seven homers, 29 RBI and 12 stolen bases.
Soler entered the season ranked as the 34th best prospect in baseball by Baseball America.