MLB didn't like Carl Crawford's mismatched cleats on Monday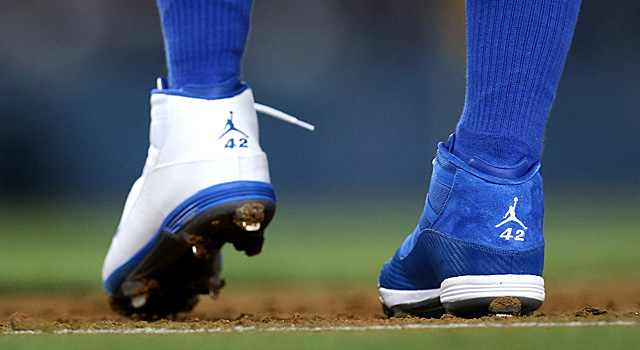 More MLB: Scoreboard | Standings | Probable Pitchers | Sortable Stats | Odds
Think the NFL has the market cornered on playing fun police when it comes to what players wear on the field? Think again.
Dodgers left fielder Carl Crawford received two special pair of Nike Jordan PE cleats from which to choose to wear Monday night. He had a choice between blue and white. Crawford chose instead to go with one of each. Major League Baseball didn't like that.
The Los Angeles Dodgers outfielder said his agent received a call from the league office instructing him not to wear either the blue or white special edition Nike Jordan PEs in a game again. Crawford got the idea to wear one blue shoe and one white shoe after seeing on the clubhouse TV that Jimmy Rollins had changed shoes between his at-bats Monday night.

"I was like, 'OK, he had a little fun with it, so let me have fun with it,' " Crawford said. "The league doesn't want us to have any fun, I guess."
There are uniform rules in every sport, and the leagues always seem hellbent on worrying about some sort of slippery slope, but I don't understand why they can't exercise discretion and common sense. Crawford wasn't doing this on a random day. It was a one-time thing for this season, yet ESPN Los Angeles reports Crawford likely will be fined.
I couldn't help but be reminded of Major League Baseball preventing the Mets from wearing NYPD, FDNY and PAPD (Port Authority Police Department) hats instead of Mets hats on the 10-year anniversary of 9/11. All in the name of "consistency."
Obviously that's a more extreme situation than Crawford's, but at some point maybe loosen the purse strings a bit, MLB suits, lest we confuse your office with that of Mr. Goodell.