Adam Dunn in 2013 resembles Adam Dunn in 2011 so far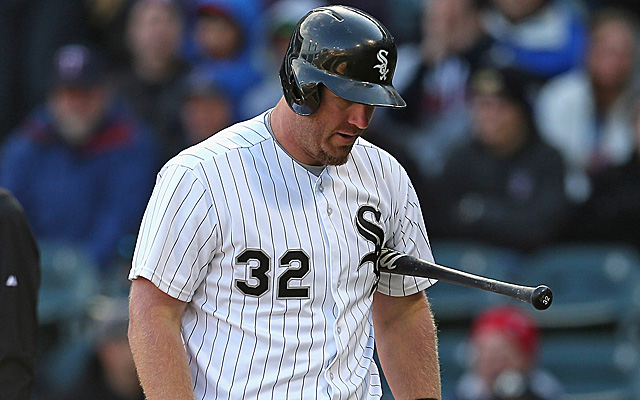 More MLB: Scoreboard | Standings | Probable Pitchers | Sortable Stats | Odds
Remember the disaster that was the 2011 season for White Sox slugger Adam Dunn?
If you need a memory refresher, you could always watch him play this season.
In 2011, Dunn suffered through a historically horrible season, hitting .159/.292/.277 with 11 homers in 496 plate appearances. Amazingly, he's even worse right now.
After hitting his third home run of the season Sunday, Dunn raised his triple-slash line to .108/.159/.262. He's struck out 26 times in 69 plate appearances. Worst of all, though, is Dunn has walked only three times.
Normally the walks and home runs help to mitigate the damage Dunn does in strikeouts and batting average. For example, he hit just .204 with an MLB-worst 222 strikeouts last season, but had 41 homers and an MLB-best 105 walks, helping to give Dunn an .800 OPS and 112 OPS-plus (meaning he was 12 percent above average).
But this season the K-rate is higher than ever (37.7 percent; his career worst season was 2011 at 35.7 percent) and the walk rate is nearly non-existent (4.3 percent; his career lowest was 11.9 percent in 2010).
It's not like Dunn is swinging at more bad pitches. Heading into Sunday, he was swinging at 24.2 percent of pitches outside the strike zone, which is essentially the same as last season. He is, however, seeing a lot more strikes. Last season, only 42 percent of the pitches he saw were in the strike zone. Heading into Sunday, he was at 49 percent for this season.
The season is far too young to surmise that opposing pitchers are less scared to throw strikes to Dunn, but it's not too early to point out he's swinging at more bad pitches and missing an awful lot on good ones.
Dunn is also the type of player who can get incredibly hot at the drop of a hat, so it's possible his home run Sunday gets him going and this will all be in the rearview mirror quite soon.
Still, until that happens, the memory of 2011 will continue to haunt Dunn. When he goes through awful stretches like he is now, we can't help but wonder if the issues are resurfacing.