Billy Butler has a BBQ sauce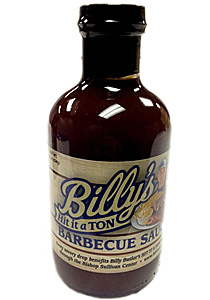 Though his nickname is "Country Breakfast," Royals designated hitter Billy Butler is playing in Kansas City, so he has to love his BBQ. And now he has a sauce of his own, dubbed "Billy's Hit-It-a-TON Barbecue sauce."
The sauce costs $5.99 per 22 ounce bottle and can be purchased on the Zarda BBQ website. The site describes the sauce as "simmered with (Butler's) favorite spices and herbs."
Best of all, though, is that all proceeds benefit Butler's charity, also called "Hit it a TON." It helps to feed the hungry in the Kansas City area.
The sauce isn't the only way to contribute to Butler's charity. There are more details on the Bishop Sullivan Center website, where it outlines how donations can get fans a breakfast with Billy, a visit to his locker and other good stuff.
But, if not in the K.C. area, purchasing the BBQ sauce will suffice. In fact, I'm gonna go do that right now.