Indians' Ryan Raburn is all kinds of hot right now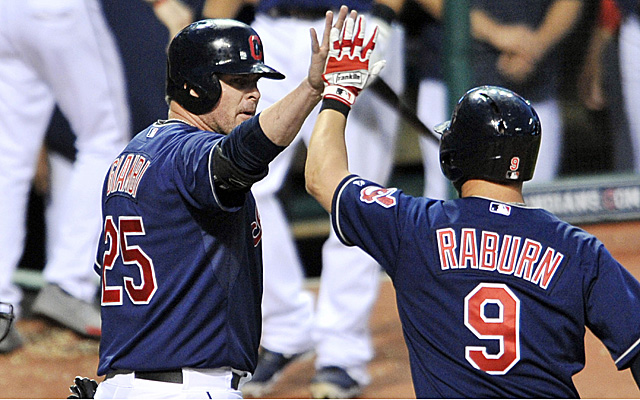 More MLB: Scoreboard | Standings | Probable Pitchers | Sortable Stats | Odds
Talk about being in a zone.
Indians outfielder Ryan Raburn is basically getting regular playing time only because of Michael Bourn's injury. And boy, has Raburn made the most of his situation the past three games.
Monday against the Royals, Raburn went 4 for 4 with two homers and four RBI.
Tuesday against the Phillies, Raburn went 3 for 4 with two homers and three RBI.
Wednesday against the Phillies, Raburn went 4 for 5 with a double and two RBI.
So Raburn is hitting .846/.846/1.846(!) with four homers, two doubles and nine RBI in his past 13 at-bats. Here's the best part: Raburn entered this three-game stretch hitting .214/.283/.286 with zero homers and one RBI in 46 plate appearances this season. Not only that, Raburn hit .171/.226/.254 with one homer and 12 RBI in 222 plate appearances last season for the Tigers.
He's been good in the past, 2009-10 to be specific, but this is still quite the extraordinary three-game stretch. Even if this were Mark Reynolds or Carlos Santana, it would be worth mention. But it's Ryan Raburn.
You just can't predict this great game.