The Bobblehead Project: Dock Ellis throws a no-hitter on LSD
More MLB: Scoreboard | Standings | Probable Pitchers | Sortable Stats | Odds
I think it's safe to say the latest installment of the Bobblehead Project is our weirdest. That's on former Pirates right-hander Dock Ellis though, not on us.
Ellis famously threw a no-hitter against the Padres back in June 1970 -- he walked eight and struck out six -- but the game wasn't famous for the no-hit heroics. Years later, Ellis admitted to pitching the no-no while under the influence of LSD.
"I was in Los Angeles, and the team was playing in San Diego, but I didn't know it. I had taken LSD," said Ellis in 1984. "I thought it was an off-day, that's how come I had it in me. I took the LSD at noon."
The story is so much more entertaining when you hear Ellis tell it. This is one of my all-time favorite YouTube videos:
And now, with the backstory out of the way, here is our Dock Ellis on LSD no-hitter bobblehead: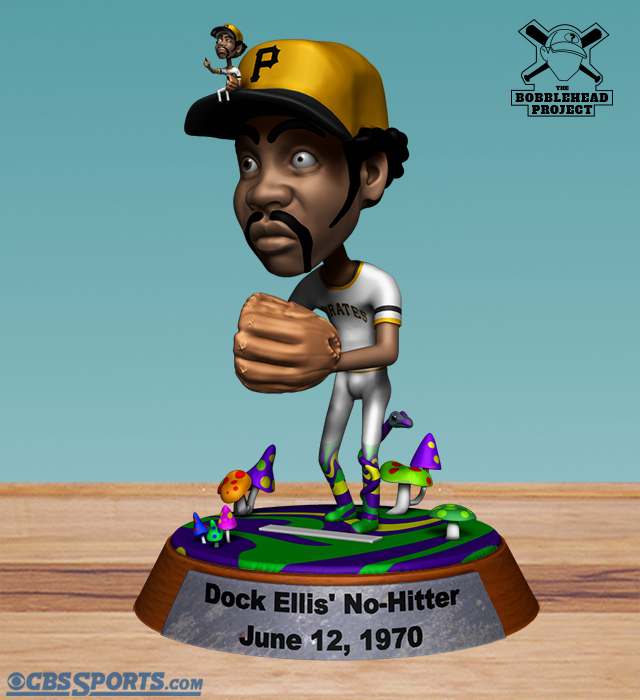 I love everything about it. It's everything I thought it would be and more. Major props go out to our artist Jarod Valentin, who continues to amaze with his bobblehead work.
Bobblehead Gallery (click on thumbnail) ...
Bobblehead Gallery (click on thumbnail) ...