Grading the weekday series: Indians sit at head of class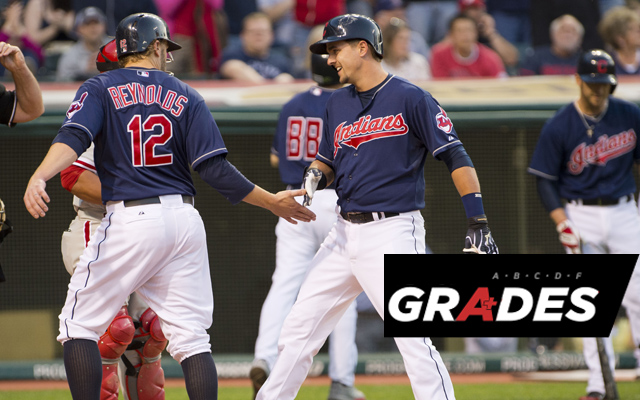 More MLB: Scoreboard | Standings | Probable Pitchers | Sortable Stats | Odds
The weekday series are a wrap. Remember, we're defining these as the series -- one of our language's more notable tricky plural words -- played between two teams coming somewhere in the Monday-Thursday range. So the Orioles-Angels game Thursday night, for example, is irrelevant, being that it's the first game of the weekend series.
During this set of weekday series, we saw three sweeps (Indians over Phillies, Royals over Rays and Giants over Diamondbacks). Any one of those could have been an A, but I believe the defending champs have gotten plenty of love from yours truly and I gave the Royals an A+ just a few weeks ago. Not only that ... well, nevermind. We'll get to our honor student in a second.
There were only two four-game series -- Nationals at Braves and Padres at Cubs -- and both resulted in splits. So that meant that 10 of the 15 series had one team taking two of three. The most impressive we didn't get a chance to mention below was the White Sox taking two of three from the Rangers, who previously hadn't lost a series all season. Well done, Sox. Grade yourself with impunity. We'll give you the red pen after we hand out five letters below.
| Team | Grade | Analysis |
| --- | --- | --- |
| | A+ | Even though there were only two games scheduled in this series, boy, did the Tribe make the most of them. The final combined tally of the two contests was 20-2 in favor of the Indians. The Cleveland offense put up 31 hits, including three doubles and seven homers in the two games -- with all seven bombs coming in the series opener -- while Indians pitchers allowed only seven hits total. Really, not much more needs to be said. This was an old-fashioned ass kicking. |
| | B | Very good series for the Mariners to cap off a great homestand in which they went 5-2. In this series in particular, the Mariners were tasked with playing a real tough Orioles team, and Seattle took two of three. Perhaps the best sign here came from the starting pitching. Previously struggling Joe Saunders (CG, 4 H, 2 ER) and Aaron Harang (6 IP, 4 H, 2 ER, 5 K) came through with good outings against one of the better offenses in baseball. Brandon Maurer wasn't as fortunate, but hey, that's the difference between an A and a B. |
| | C | They took two of three at home, but it was against the Astros. And the Yankees lost to those Astros 9-1 as Andy Pettitte was tagged for 10 hits and seven earned runs in 4 1/3 innings in the series opener. That's good enough to drop to a C, especially since the Yankees had to claw out the rubber match win, 5-4, after blowing an early 4-0 lead. |
| | D- | They avoid the F because the salvaged one win and the two losses were each only by a run -- and both in the Marlins' last at-bat. But at the end of the day, the Mets lost two of three to the Marlins and were four outs away from a sweep. That's a pretty ugly series and well deserving of a D-. |
| | F | I hate to use two teams from the same series in these grades, but no one was even close to being as deserving as the Phillies for an F. The Diamondbacks could have pretty easily swept the Giants while the Rays only lost by one in the second of their two losses to the Royals. The Phillies were dismantled and embarrassed twice. Not only that, this series left lingering questions in terms of who the Phillies have beaten this year. They are only 5-14 against teams not named the Mets or Marlins. |