Maybe Ike Davis has become a slow starter?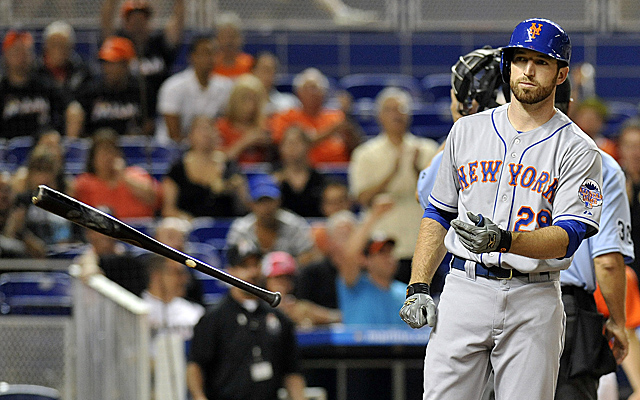 More MLB: Scoreboard | Standings | Probable Pitchers | Sortable Stats | Odds
Many, including myself, saw the big second half Mets first baseman Ike Davis had in 2012 and thought he'd be able to carry it over into a huge 2013 season. After all, Davis was dealing with the after effects of a viral infection that resembled valley fever, and he was also coming off a serious ankle injury that ruined his 2011 season. That's why he got off to a slow start last year. Right?
Maybe not.
Through Monday's action, Davis is hitting .172/.271/.312 with four homers and eight RBI. Last year at this time, Davis was hitting .168/.225/.274 with three homers and nine RBI. Looks rather familiar.
He would have a big finish in 2012, though.
From June 9 to the end of last season, Davis hit .265/.347/.565 with 27 homers, 69 RBI and 20 doubles in 383 plate appearances. If calculated out to a 600 plate-appearance season, that's a rate of 42 homers and 108 RBI. Ignore the average -- a .347 on-base percentage with that kind of power output is all the Mets would need from a cleanup hitter protecting David Wright.
And yet, Davis is off to another bad start. Considering he found his stroke in the second week of June last season, it's worth wondering if he's joining the fray of notable slow-starting first baseman sluggers in the mold of Mark Teixeira and Adam LaRoche.
Davis himself believes he's going to get it going this season, partially because he knows he can overcome a slow start.
"Last year, I didn't know if it was ever going to stop," he said (NYDailyNews.com), "But now, I know eventually it's gonna start happening. I feel like, I am getting better."
One of the reasons Davis has struggled is that he's striking out more often. He's up to 29.9 percent (with a career rate of 23.7 percent). Of course, he's also been incredibly unfortunate with balls in play. His batting average on balls in play is a dreadful .207. It was bad last season, too, at .246, but not this bad. The other rate measures -- line drive, ground ball, fly ball, infield fly ball, home runs per fly ball -- are similar enough to believe Davis is still hitting in a similar fashion. It's just a rise in strikeouts mixed with some poor luck on balls in play. And frankly, it's a slump. That happens to human beings playing a game this difficult.
None of that is an unfixable problem. The strikeouts will likely come down once Davis gets into a better groove at the plate and the BABIP issue can't possibly continue to be so bad. And good hitters break out of slumps the overwhelming majority of the time.
I fully expect the 26-year-old Davis to get things figured out at the plate within the next month. And if we're here talking about this again next year, we'll know Davis has slipped right into that mold of a traditional slow starter -- even if he didn't begin his career as one.