Rays' pitching staff isn't pitching like a typical Rays pitching staff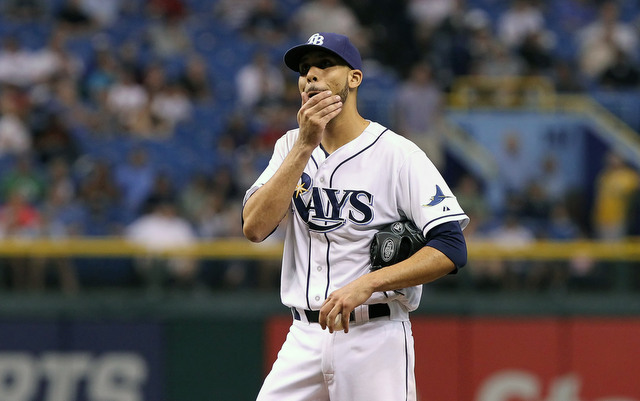 More MLB: Scoreboard | Standings | Probable Pitchers | Sortable Stats | Odds
On Monday night, the Rays had a 7-0 lead after three innings. On Tuesday night, they had a 4-1 lead after six innings. They lost both games thanks to spectacular pitching collapses.
Entering Wednesday, the Rays had the fifth-worst ERA (4.44) and seventh-worst WHIP (1.33) in baseball this season. Last year they had the best ERA (3.19) and WHIP (1.17) in the game, both by a decent margin. The year before they had the eighth-best ERA (3.58) and second-best WHIP (1.22). Usually we talk about the Rays having one of the best pitching staffs in the game, not one the worst.
Perhaps the most amazing thing about the team's pitching trouble is how nearly every single member of the staff is performing worse than they did a year ago. Here are the holdovers, the guys who pitched for the Rays in both 2012 and 2013:
2012-13 Rays Pitching Staff
Pitcher
2012 ERA
2012 WHIP
2013 ERA
2013 WHIP
David Price
2.56
1.10
6.25
1.48
Alex Cobb
4.03
1.25
2.79
1.19
Jeremy Hellickson
3.10
1.25
4.79
1.31
Matt Moore
3.81
1.35
1.95
1.05
Fernando Rodney
0.60
0.78
5.06
1.78
Joel Peralta
3.63
1.19
2.51
1.19
Jake McGee
1.95
0.80
11.25
2.25
Cesar Ramos
2.10
0.97
5.63
1.63
Kyle Farnsworth
4.00
1.33
7.36
2.32
Half the rotation and all but one reliever has pitched worse in 2013 than he did in 2012. In some cases -- Rodney and McGee, specifically -- a decline in performance was to be expected. Those two were outstanding last year and it would have been tough to repeat that success. Still, the decline has been drastic.
Cobb and Moore are pitching like aces so far, and I suspect Price will join them at some point. He's simply way too good to pitch like he has over a full season. Unless he's hurt, of course. The entire staff has taken a step back, it seems. This looks more like a Devil Rays staff than a typical Rays staff.
Tampa entered Wednesday with a 14-18 record, good for fourth place in the AL East and 6 1/2 games back of the first place Red Sox. Their offense has been just fine so far (averaging 4.5 runs per game), but their pitching staff has been a huge disappointment. Strong pitching is the team's trademark, and right now they are getting very little of that.