Phil Humber's fall continues; Astros designate righty for assignment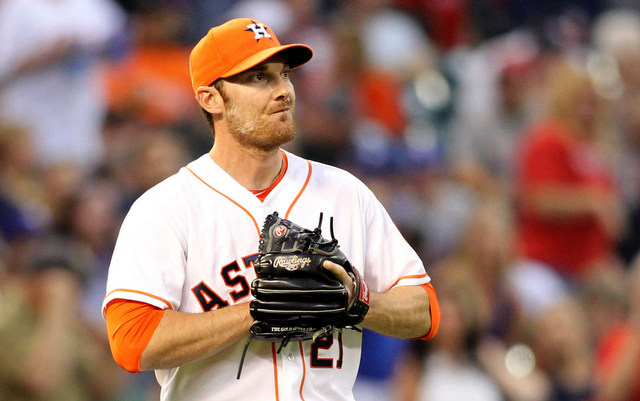 More MLB: Scoreboard | Standings | Probable Pitchers | Sortable Stats | Odds
On April 21, 2012, right-hander Philip Humber was on top of the baseball world. The right-hander had just thrown the 21st perfect game in history as a member of the White Sox, one year after going 9-9 with a 3.75 ERA in 163 innings for Chicago. It appeared the journeyman who as the third overall pick in the 2004 draft by the Mets had finally gotten his career on track.
Instead, things have completely unraveled. Humber allowed nine runs in five innings in his first start following the perfect game, and he pitched to a 7.39 ERA in 87 2/3 innings the rest of the year. So far this season, he has managed a 9.59 ERA in 35 2/3 innings for the Astros.
Saturday's five-run, two-thirds of an inning relief appearance appears to have been the final straw. The Astros announced they designated Humber for assignment on Sunday morning, replacing him on the roster with right-hander Edgar Gonzalez, who was signed off the scrap heap.
Humber, 30, opened the year in the Houston rotation, but an 8.82 ERA in seven starts earned him a demotion to the bullpen. That lasted all of two relief appearances before being removed from the roster. At -1.4 WAR (Baseball-Reference version), he has been the very worst player in baseball this year, pitcher or position player.
Since the perfect game. Humber has posted an 8.03 ERA in 123 1/3 innings. Opponents have hit .315/.384/.562 against him during that time, which is basically Miguel Cabrera's career batting performance (.320/.396/.562). That's rough.
Humber made only one start for the Mets before he was included in the package of players sent to Minnesota before the 2008 season for in-his-prime Johan Santana. Now, he has to hope a team will give him a minor-league contract and work with him at the Triple-A level.