20-year-old Manny Machado deserving of more hype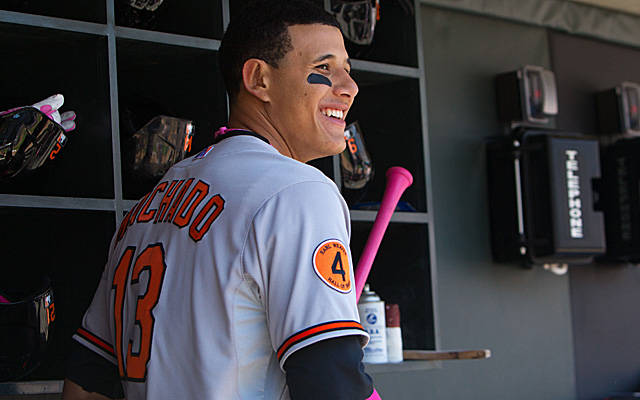 More MLB: Scoreboard | Standings | Probable Pitchers | Sortable Stats | Odds
Despite the Orioles' loss Wednesday afternoon to the Padres, one couldn't help but notice that young Manny Machado is continuing to tear his way through the league at the tender age of 20. After going 4-for-5 with three doubles, Machado is hitting .343/.379/.541 with 17 doubles on the season.
First of all, that means he's on pace to end up with 69 doubles. Now, obviously paces in the middle of May rarely keep up, but they're still fun to check. It's not like it's opening day and we're doing those stupid "he's on pace for 162 home runs!" jokes. This is 40 games in. And 69 doubles would be the major-league record for doubles in a season. Only six have ever topped 60, while there have been 91 instances of 50-double seasons. The record is 67 (Earl Webb, 1931) and the most since 1936 is 59 (Todd Helton in 2000), so this bears mention right now.
Still, I couldn't help but think Machado is worth a deeper look. After all, he's only 20 and we fawn all over Mike Trout and Bryce Harper for their immense talent at such a young age. So let's compare, shall we?
Machado's first major-league game came when he was 20 years, 34 days old. Trout's came when he was 19 years, 335 days. Harper's came when he was 19 years, 195 days.
So while Machado arrived in the bigs just slightly later than Trout and a bit later Harper, all three were three awfully young and are close enough to compare.
Machado has now played in 91 career games. Here's how the three fared in their first 91 career games.
Through 91 career games
Player
AVG/OBP/SLG
2B/3B
HR
RBI
R
Bryce Harper
.249/.328/.408
16/5
10
32
59
Manny Machado
.300/.331/.460
25/4
12
50
54
Mike Trout
.294/.356/.479
25/3
18
60
84
That's some pretty impressive work from Machado, especially considering how unbelievably talented Harper and Trout are, not to mention that both of those players have improved since those first 91 games. Expect to see Machado improve as he continues to learn the big-league ropes as well. That's what players with his immense talent level do.
Obviously this simple chart didn't account for many aspects of the game, such as baserunning and defense, but Machado is no slouch in those areas, either. Remember this move in the heat of the pennant race?
Plays like that are abnormal for 20 year olds. But Machado routinely makes outstanding plays at third base even though he was a shortstop for 203 of his 205 minor-league games. He can run the bases, too, as he's already a complete player. So complete, in fact, that Machado entered Wednesday as the top AL position player in WAR (baseball-reference.com version), and that was before his big day against San Diego.
Look, I don't know if Machado will end up being as good as Harper and/or Trout. No one does. And, no, he hasn't yet done as much as Harper and Trout at the big-league level, but one could chalk that up to not having been in the majors as long.
What I do know is that it's worth considering Machado in the same breath. And at the very least, he's young enough and exciting enough to warrant more hype than he's getting.