Jose Reyes begins running on injured ankle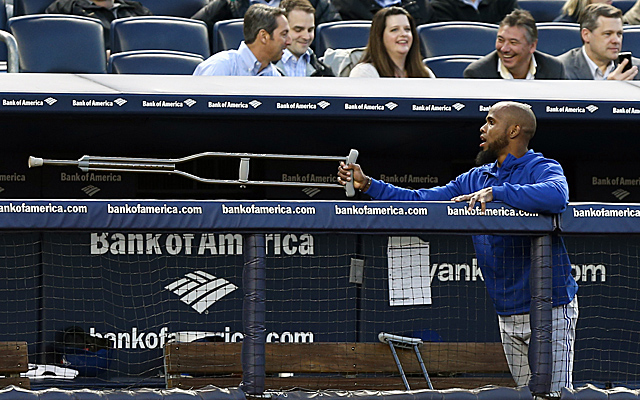 More MLB: Scoreboard | Standings | Probable Pitchers | Sortable Stats | Odds
Blue Jays shortstop Jose Reyes hasn't played since April 12, when he badly sprained his left ankle on an awkward slide in Kansas City. Initial reports had Reyes out one to three months, and it appears he's on track for closer to the latter.
But in terms of the good news, Reyes has started running and not just jogging. MLB.com reports Reyes pushed himself and went harder than a simple jog. And it appears everything went fine.
"It was a little bit scary for me," Reyes said (MLB.com). "But pain free. ... I just started running a little bit. I'm very happy with the way that I performed yesterday; better than I expected. As I said, I'm going to continue to work the hardest I can to be on the field as soon as possible."
Reyes has been performing some baseball activities and reportedly expects to resume "full baseball activity" next week. From there, he'd need to go on a minor-league rehab assignment before returning to the majors.
For now, the timetable given as to when he'll be back with the Blue Jays is "sometime in June."
Reyes, 29, is hitting .395/.465/.526 with two doubles, a homer, five RBI, five steals and five runs scored in just 10 games this season. In 160 games for the Marlins last season, he hit .287/.347/.433 with 37 doubles, 12 triples, 11 homers and 40 stolen bases. When healthy, he's one of baseball's most exciting players, but he has had injury woes since 2009. To be fair, though, this time it was a freak accident as opposed to his past lingering hamstring issues.