Five Years Later: Reviewing the 2008 draft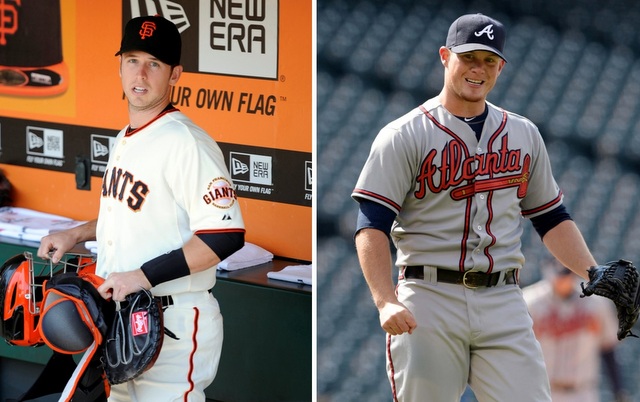 More MLB: Scoreboard | Standings | Probable Pitchers | Sortable Stats | Odds
They say you have to wait five years before you can properly evaluate a draft class in baseball. Players need to be given an opportunity to climb the minor-league ladder and cut their teeth at the big-league level before we start declaring winners and losers. That hasn't stopped us before, of course, and it won't stop us in the future.
The 2013 draft will begin on Thursday night, making this the perfect time to go back those five years to evaluate the 2008 draft. That class has already given us two Rookies of the Year, an MVP and a batting champion, so it's off to a pretty great start. With some help from the incomparable Baseball-Reference.com, let's break down the 2008 draft.
Top 15 Players To Date (round/overall pick)
Buster Posey, Giants (1/5) -- 14.3 WAR -- 2010 Rookie of the Year, 2012 NL MVP, 2012 batting champ, two-time World Series champ ... Posey isn't just the best player from the 2008 draft, he's one of the very best in baseball. The Rays, Pirates, Royals and Orioles all passed on him.
Brett Lawrie, Brewers (1/16) -- 8.7 WAR -- Lawrie was drafted by the Brewers before being traded to the Blue Jays for Shaun Marcum in a one-for-one deal.
Alex Avila, Tigers (5/163) -- 8.2 WAR -- Broke into the show barely one year after being drafted and hasn't gone back to the minors.
Craig Kimbrel, Braves (3/96) -- 7.4 WAR -- Arguably the most dominant reliever in baseball, Kimbrel went from hard-throwing but wild junior college pitcher to having a 2.1 BB/9 over the last two years.
Daniel Hudson, White Sox (5/150) -- 5.6 WAR -- Chicago turned Hudson, who is recovering from Tommy John surgery at the moment, into Edwin Jackson at the 2010 trade deadline.
Danny Espinosa, Nationals (3/87) -- 5.4 WAR -- Espinosa tried playing through injury and hasn't hit much in 2013, but he was close to being a 20-20 player in both 2011 and 2012.
Gordon Beckham, White Sox (1/8) -- 4.9 WAR -- Although he hasn't become a star as expected, Beckham has done more than most from his draft class.
Lance Lynn, Cardinals (1s/39) -- 4.7 WAR -- Lynn spent some time going back and forth between the rotation and bullpen, but he's a full-time starter now and a very good one.
Brandon Crawford, Giants (4/117) -- 4.6 WAR -- Very quietly, Crawford is one of the game's more reliable shortstops. He can really pick it, and his offense is improving.
Ike Davis, Mets (1/18) -- 4.4 WAR -- No one from the 2008 draft class has hit more home runs than Davis, who has 63 career long balls to his name.
Andy Dirks, Tigers (8/253) -- 3.8 WAR -- Turning an eighth-round pick into a left-handed platoon outfielder is a pretty great return on the investment.
Vance Worley, Phillies (3/102) -- 3.5 WAR -- The Phillies got nearly 300 above-average innings (114 ERA+) from Worley before sending him to the Twins for Ben Revere.
Tommy Milone, Nationals (10/301) -- 3.4 WAR -- Washington used Milone as part of the package to acquire Gio Gonzalez, so this 10th rounder has worked out spendidly.
Wade Miley, Diamondbacks (1s/43) -- 3.3 WAR -- Miley was the runner-up for last year's NL Rookie of the Year award.
Ryan Cook, Diamondbacks (27/828) -- 3.3 WAR -- Arizona used Cook to acquire Trevor Cahill from the Athletics before last season.
Only two other players in the entire draft class have accumulated 3.0+ WAR in the big leagues: Rangers reliever Robbie Ross (2/57) and Astros catcher Jason Castro (1/10). They're at 3.3 and 3.0 WAR for their careers, respectively. Now, let's look at some late-round steals.
Best Picks in the 10th Round or Later
Every draft has some busts, and the 2008 class is no different. Obviously, some busts are much more spectacular than others. Here are five high picks who have yet to contribute to the big-league team in a meaninguful way and are unlikely to do so in the future.
Biggest Busts
Tim Beckham, Rays (1/1) -- Yes, the top overall pick in the draft. Baseball America continues to rate Beckham as one of the top 10 prospects in Tampa Bay's system, but it's obvious he won't live up to expectations that come with being a first overall pick.
Kyle Skipworth, Marlins (1/6) -- Skipworth did actually reach the show this year and spent a few days on the roster as the backup catcher, but he's a career .216/.279/.371 hitter in nearly 2,000 minor-league plate appearances. Yikes.
Brett Wallace, Cardinals (1/13) -- Wallace was considered one of the two or three best hitters in the draft class at the time, but he hasn't hit in the big leagues at all (87 OPS+). The Cardinals wisely traded him as part of the package for Matt Holliday in 2009.
Ethan Martin, Dodgers (1/15) -- Along with Beckham, Martin is one of just two top-20 picks from 2008 to fail to reach the show. He has a 4.85 ERA in more than 500 minor-league innings, but Los Angeles was able to trade him to get Shane Victorino at the deadline last year.
Josh Fields, Mariners (1/20) -- Fields was the best reliever in the draft class, but he's had trouble throwing strikes throughout his career. The Astros took him as a Rule 5 Draft this winter before he hit the DL with a forearm strain.
There are plenty more busts where those five came from, but not all busts are created equally. Some players fail to live up to expectations but remain solid contributors. Are they disappointments? Sure. Are they still useful players? Definitely.
Disappointing but Useful
Finally, let's look at the players who got away. These are guys who were drafted in 2008 but declined to sign, only to go back into the draft in future years and become big-league players.
Ones Who Got Away
Jason Kipnis, Padres (4/135) -- 6.5 WAR -- The Padres were unable to reel Kipnis in as their fourth-rounder, and the next year he went in the second round to the Indians.
Aaron Crow, Nationals (1/9) -- 2.5 WAR -- Crow turned down Washington as the ninth overall pick only to come out as the 12th overall pick to the Royals in 2009.
Tanner Scheppers, Pirates (2/48) -- 1.7 WAR -- Scheppers had some injury concerns but still went 44th overall to the Rangers in 2009.
It's worth noting that top prospects Gerrit Cole (1/28 to Yankees) and Anthony Rendon (27/820 to Braves) both decided to go to college rather than turn pro in 2008, then came out as first-round picks in 2011. Cole went first overall to the Pirates, Rendon sixth to the Nationals. They're the ultimate "ones who got away."