2013 MLB Draft: First-round pick profiles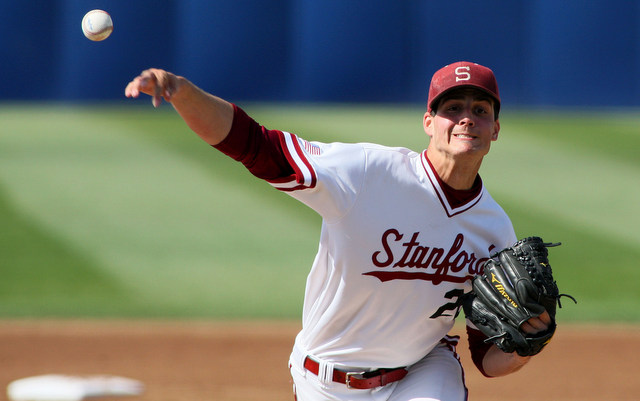 More Draft: Draft Tracker | Astros take Appel | Five-years out: 2008 draft | Top Sleepers
Pick
Player
Profile
Pick 1


Mark
Appel

RHP
Stanford

The Pirates failed to sign Appel as the eighth overall pick in 2012, and there's a great chance he'll get selected even higher this year. The right-hander always brought mid-90s velocity to the table, but this spring he refined his slider and changeup while pitching more aggressively and attacking hitters. Appel, now listed at 6 feet 5 and 215 pounds, has gone 10-4 with a 2.12 ERA and a 130/23 K/BB in 106.1 innings this year. No player in the draft class better combines "now" stuff while future potential. If his drafting team is so inclined, he could pitch in MLB in the second half and not embarrass himself.

Pick 2


Kris
Bryant

3B
San Diego

The draft's top power hitter would have been a first-round pick in 2010 had teams not been concerned about his bonus demands and so-so senior year in high school. Bryant has huge right-handed power and can drive the ball out of any part of any park. He has a quiet setup at the plate and an advanced approach, but there are concerns about how his swing will work against high-end fastballs and big-league breaking pitches. Although he has a strong arm and is a good athlete, he is expected to shift to right field down the line. Bryant, who is listed at 6-5 and 215 pounds, came into the week hitting .329/.493/.820 with 31 home runs, the most in Division I by 10.

Pick 3


Jonathan
Gray

RHP
Oklahoma

Both the Royals (2010) and Yankees (2011) will rue failing to sign Gray in past drafts, as he transformed himself from a chubby higher schooler into a hard-thrower and arguably the top prospect in the 2012 draft. Gray is listed at a sturdy 6-4 and 239 pounds, and he'll sit in the 95-97 mph range while flirting with triple digits with his fastball. Both his slider and changeup are better-than-average offspeed offerings.

Gray has gone 10-2 with 1.59 ERA and a 138/22 K/BB in 119 innings this season, and he could be big-league ready as soon as 2014. He tested positive for Adderall in a pre-draft screening, but that won't be enough to deter teams from his arm.

Pick 4


Kohl
Stewart

RHP
St. Pius X (HS)
Texas

Despite being a high schooler, Stewart is a four-pitch pitcher whose stuff rivals Mark Appel's and Jonathan Gray's. He'll sit in the 91-95 mph range with his fastball, backing it up with the usual array of offspeed pitches: slider, curveball and changeup. He commands everything well despite a rough delivery which will need to be ironed out long-term. Stewart, who is listed at 6-3 and 190 pounds, is a top quarterback recruit in addition to a top baseball prospect. Most expect him to turn pro rather than follow through on his commitment to Texas A&M, where he would hold clipboards behind Heisman winner Johnny Manziel.

Pick 5


Clint
Frazier

3B
Loganville (HS)
Ga.
Arguably the most exciting prospect in the draft, the 6-1, 190 pound Frazier offers explosive bat speed, power and athleticism. He has quick hands and punishes anything he can reach from the right side, but his aggressive approach and poor pitch recognition leave him susceptible to even high school-quality offspeed pitches.

In center field, Frazier uses his above-average speed to overcome route and fly ball-reading deficiencies. The tools are very exciting, but there is also a ton of work that needs to be done to turn those tools in baseball skills. Frazier is committed to Georgia.

Pick 6


Colin
Moran

3B
N. Carolina

Moran is the nephew of former big-leaguer B.J. Surhoff. He's one of the most polished hitters in the draft, a lefty-swinger with top shelf hand-eye coordination and excellent knowledge of the strike zone -- he came into the week hitting .348/.478/.557 with 13 home runs, 60 walks and only 22 strikeouts.

Listed at 6-3 and 215 pounds, Moran has power and although he isn't fleet of foot, his arm and hands at third base are more than enough to remain at the hot corner long-term. He is widely believed to be one of the "safest" players in the draft.

Pick 7


Trey
Ball

LHP
New Castle
(HS) Ind.

Ball is the consensus top left-handed pitcher in the draft even though he's also a first-round talent in the outfield as well. He's huge with plenty of room for growth -- listed at 6-6, 180 pounds -- making it easy to think his low-to-mid-90s fastball could jump into the high-90s as he fills out his lanky frame. Ball also spins a fine breaking ball but has a very nascent changeup, which is not uncommon for prep pitchers.

As the whole two-way player thing suggests, he's an excellent athlete. Ball is committed to Texas.

Pick 8


Hunter
Dozier

SS
Stephen F.
Austin St.

Dozier is a shortstop in name only. He's listed at 6-4 and 220 pounds, making third base his most likely destination. Dozier can hit, though, as he uses strong hands and a quick bat to produce big-time opposite-field power to right.

He's athletic enough and has a strong enough arm to make it work at the hot corner. Stephen. F. Austin State isn't exactly known for producing baseball players, so Dozier will be the highest drafted player in school history by far.

Pick 9


Austin
Meadows

OF
Grayson (HS)
Ga.

Meadows is the most refined high school position player in the draft. The 6-3, 210-pounder has a sound left-handed swing which allows him to make hard contact and hit for above-average power. Some would like to see him hit the ball in the air more often. His sound approach allows his offensive tools to play up. Meadows uses his speed well in center, but his arm is weak and left field could be his ultimate destination.

The Clemson commit is one of the most polished bats in the entire draft, high school or college.

Pick 10


Phillip
Bickford

RHP
Oaks Christian
(HS) Calif.

Thanks to a premium low-to-mid-90s fastball and projectable 6-4, 185-pound frame, Bickford has shot up draft boards this spring. Of course, striking out 17 consecutive batters in a recent start doesn't hurt, either. Bickford backs up his fastball with both a slider and a curveball, but chances are he'll need to pick one and scrap the other. He still needs to learn a changeup as well.

Between his current fastball and his frame, there's a chance Bickford could flirt with a triple-digit fastball as he matures. He's committed to Cal State Fullerton.

Pick 11


Dominic
Smith

1B/OF
Serra (HS)
Calif.

High school first baseman usually aren't a popular target unless they hit like Prince Fielder or Eric Hosmer, and Smith is a notch below where those guys were as draft prospects. He can hit thanks to an easy left-handed swing and the innate ability to get the barrel on the ball, plus he's a smart hitter with a good knowledge of the strike zone. Smith figures to add power as he adds muscle to his 6-0, 210-pound frame.

Although he's played right field in the past, he's an excellent defender at first base and will stay there as a pro. Smith has caught some heat for being nonchalant at times. He is committed to USC.

Pick 12


D.J.
Peterson

3B
New Mexico

Peterson has gone from high school afterthought -- the Mariners selected him in the 33rd round of the 2010 draft -- to arguably the top hitter in the nation in the span of three years. The right-handed hitter is listed at 6-1 and 215 pounds, and his quick hands and smooth mechanics allow him to square up the ball consistently. He has some power but a very advanced approach at the plate. Peterson lacks the first-step quickness and soft hands to remain at third long-term despite a strong arm, meaning left field or first base are his likely destinations.

He came into the week with a .408/.520/.807 slash line with 18 home runs and only 35 strikeouts against 46 walks in 55 games.

Pick 13


Hunter
Renfroe

OF
Miss. State
Renfroe holds the Mississippi high school single-season home run record, and he's become a premium 2013 draft prospect after two so-so years to open his college career. The 6-1, 216-pounder has huge power from the right side, but he doesn't always take it into games because his pitch recognition is lacking and he's prone to swings and misses. Renfroe is more than just a masher -- his above-average speed and cannon arm mean he should be a defensive standout in right field. He came into the week hitting .352/.440/.634 with 15 home runs in 59 games
Pick 14


Reese
McGuire

C
Kentwood
(HS) Wash.

Arguably the top catcher prospect in the draft, McGuire is a standout defender behind the plate and a valuable left-handed hitter. He's listed at 6-1 and 190 pounds, and his receiving, throwing and footwork all grade out as above-average behind the plate. McGuire is also the rare prep catcher who calls his own game behind the plate. An easy lefty swing gives him the potential to hit for both average and power down the road. He also runs better than the typical catcher.

McGuire is committed to San Diego and draws rave reviews for his baseball instincts and intelligence.

Pick 15


Braden
Shipley

RHP
Nevada

Although he didn't begin pitching full-time until last summer, Shipley has emerged as the No. 3 college arm in the draft behind Mark Appel and Jonathan Gray. The 6-3, 190-pounder came into the week with a 7-3 record, 2.77 ERA and 102/34 K/BB in 107.a innings.

He has easy low-90s velocity and will run his fastball up to 99, plus his changeup is arguably the best in the entire draft. A promising curveball is his third pitch. Shipley has made big strides in the last two years but still lacks the pitching experience expected of first-round college pitchers.

Pick 16


J.P.
Crawford

SS
Lakewood
(HS) Calif.

A nephew of Dodgers outfielder Carl Crawford, J.P. is one of the future shortstop prospects in the draft class who is expected to remain at the position in the future. The 6-2, 175-pounder is a very good athlete with easy range, soft hands and a strong throwing arm. He's a lefty hitter with a line drive swing and some power, but his defense is his calling card. Unlike his uncle, Crawford is just a good runner.

He's committed to USC.

Pick 17


Tim
Anderson

SS
E. Central CC

Anderson has the arm, range and instincts to stick at short. Offensively, though, his profile isn't quite as promising. He's a bit of a slap hitter without much of a power stroke. That's particularly a concern coming out of the junior-college level. He does boast plus-plus speed on the bases, but his bat carries a lot of question marks.

Pick 18


Chris
Anderson

RHP
Jacksonville

Anderson has a power fastball-slider combo going for him, and while his changeup needs refinement it has the makings of a workable offering. He has a solid physical build, but Anderson's command is spotty at times. During his college career, Anderson was able to transition from closer to starter, which shows adaptability. He has some workload concerns but decent polish.

Pick 19


Marco
Gonzales

LHP
Gonzaga

Outside of Mark Appel, no pitcher in the draft is closer to the big leagues than Gonzales. The 6-1, 185-pound southpaw is incredibly polished with a clean delivery and command of three pitches: low-90s fastball, upper-70s curveball, and a low-80s changeup that rates as the best in the draft. There might not be true ace potential here, but the high probability and closeness to MLB will have Gonzales off the board in the first round.

Pick 20


Jonathon
Crawford

RHP
Florida

It's unclear whether Crawford will start or relieve down the road. He's got a big fastball at 93-97 and he can hold that velocity deep into games, but his rough mechanics leave some wondering if he can stay healthy long-term. His unrefined changeup is another concern, though his slider is an out pitch. Crawford was a potential top-10 pick before having an uneven spring, so he is one of the biggest wildcards heading into the draft.

Pick 21


Nick
Ciuffo

C
Lexington (HS) S.C.

Ciuffo jumped into first-round consideration thanks to a strong showing on the showcase circuit last year. He's a big, physical kid at 6-1 and 205 pounds, and he's made big strides with his receiving and release. His left-handed swing hints at future power potential. Ciuffo earns high praise for his intangibles, including his leadership skills and baseball smarts. The South Carolina commit may not have the loudest tools among the draft's top catching prospects, but he has the best all-around ability.

Pick 22


Hunter
Harvey

Brandys
(HS) N.C.

The son of former major-league closer Bryan Harvey, Hunter Harvey has solid velo readings and one of the better high-school curveballs in the draft. He needs some mechanical refinements and a reliable third pitch, but the foundation -- the plus fastball and the high-ceiling breaking pitch -- is there. He's not committed to pitch in college, so he could be very signable.

Pick 23


Alex
Gonzalez

RHP
Oral Roberts

Gonzalez turned down the Orioles as an 11th-round pick in 2010, and this year he's gone 9-5 with a 1.83 ERA and 126/27 K/BB in 113.1 innings. He uses his 6-3, 200-pound frame to deal low-90s cutting fastballs and a mid-to-upper-80s slider that ranks as one of the best in the draft. A changeup gives him a usable third pitch. Gonzales repeats his delivery well and throws strikes, making him the perfect target for a team looking to add a high-probability college arm to their system.

Pick 24


Billy
McKinney

OF
Plano West
(HS) Texas

A TCU commit with a nice 6-2, 195-pound frame, McKinney has one of the sweetest swings in the entire draft class. The lefty-swinger gets the fat part of the bat on the ball consistently thanks to quick hands and a discerning approach. His future position is unclear because his speed and arm are just OK, making left field a likely destination. McKinney has a lot of fans because he plays all-out with a ton of energy.

Pick 25


Christian
Arroyo

SS
Hernando (HS)
Fla.

Arroyo probably won't remain at short in the pros, but it's possible he could wind up at catcher or third base. If it's the former, then his bat (and strong throwing arm) will play. If pushed to third, though, Arroyo may lack the raw power most organizations like to see from the position. He's not a fast runner, but he does have excellent instincts in the field and on the bases. Athletically limited somewhat, but a smart and hard-working baseball player.

Pick 26


Eric
Jagielo

3B
Notre Dame

The 1,510th of 1,525 players drafted in 2010, Jagielo followed through on his commitment to Notre Dame and came into the week hitting .388/.500/.633 with nine home runs in 56 games. He has some of the biggest left-handed power in the draft class, and he made major strides with his plate discipline and ability to make contact this year.

His defense at the hot corner has also improved -- he didn't start playing third full-time until last year -- and he's no longer considered a lock to move to first base or an outfield corner.

Pick 27


Phillip
Ervin

OF
Samford

Ervin, who went undrafted out of high school because he tore a knee ligament playing football, is one of the top statistical performers in the draft class -- he came into the week hitting .337/.459/.597 with 11 home runs and 32 stolen bases in 55 games. He slashes line drives to all fields from the right side, and he has surprising power considering his 5-11, 190-pound frame.

An advanced and disciplined approach at the plate serve him well. Ervin runs well but he might have enough defensive skills to stick at center long-term. He has battled a nagging left ankle sprain this spring but remains one of the better college bats available.

Pick 28
(Compensation)


Rob
Kaminsky

LHP
St. Joseph
Regional (HS) N.J.

Kaminsky is listed at 6-0 and 190 pounds, which might be a little generous. The southpaw stands out for his stuff and his polish rather than his size, however. His fastball sits in the 89-91 mph range and he can dot it on the corners of both sides of the plate. A hard upper-70s curveball and low-80s changeup are both strong advanced secondary offerings. Kaminsky draws raves for his pitching know-how and polish, especially considering he's a high-schooler from a cold-weather state. He is committed to UNC.

Pick 29
(Compensation)


Ryne
Stanek

RHP
Arkansas

Stanek turned down the Mariners as the 99th overall pick out of high school in 2010, and he came into the spring as a candidate to go first overall. Listed at 6-4 and 190 pounds, the right-hander sits anywhere from 90-98 mph with his fastball while backing it up with a vicious mid-to-upper-80s slider. His changeup has improved but remains a distant third pitch.

Stanek came into the week with a 10-2 record and a 1.39 ERA in 97.2 innings this spring, but there is some concern because he issues a few too many walks (41) and doesn't pick up as many strikeouts (79) as his stuff suggests. His fastball and slider might be the best two-pitch combination in the draft, though, and at worst he should be a lights-out reliever.

Pick 30
(Compensation)


Travis
Demeritte

3B
Winder-Barrow (HS) Ga.

Demeritte brings to the draft a lightning-quick bat, power from foul pole to foul pole and the raw arm strength to remain on the left side of the infield. He needs coaching, though, as Demeritte has an exploitable swing that won't hold up in the pros without some mechanical improvements. He's projectable but raw.

Pick 31
(Compensation)


Jason
Hursh

RHP
Oklahoma St.

A 2012 redshirt after undergoing Tommy John surgery, Hursh this season pitched to a 2.79 ERA and struck out 86 and walked 28 in 106 1/3 innings. Over that span, he gave up just four home runs. In 2013, Hursh touched the high 90s with his four-seamer, but his secondary stuff is lacking, even by amateur standards. He profiles as a reliever at the highest level. In 2010, Hursh was a sixth-round choice by the Pirates coming out of high school.

Pick 32
(Compensation)


Aaron
Judge

OF
Fresno St.

No player in the draft is more physically imposing than Judge. He's listed at a monstrous 6-7 and 255 pounds, but he is not just a lumbering slugger. His speed, arm and athleticism are all above-average in addition to his light-tower power, making him a legitimate power-speed prospect. Judge doesn't always tap into his power in games because he can have a hard time lifting the ball, but it's in there. Center fielders this size are unprecedented, meaning Judge will likely settle into right field down the road.

Pick 33
(Compensation)


Ian
Clarkin

LHP
James Madison (HS) Calif.

A star on the showcase circuit last year, Clarkin is a classic prep left-hander with a low-90s fastball and a big-breaking curveball. He's listed at 6-2 and 190 pounds, so there is room to add some muscle and velocity. His changeup and command both need work, however. Clarkin is committed to San Diego and has the best two-pitch mix among high school lefties in the draft class.
Follow the rest of the 2013 MLB Draft on our DraftTracker.