Puig pushing Ethier out of LA; which teams could have trade interest?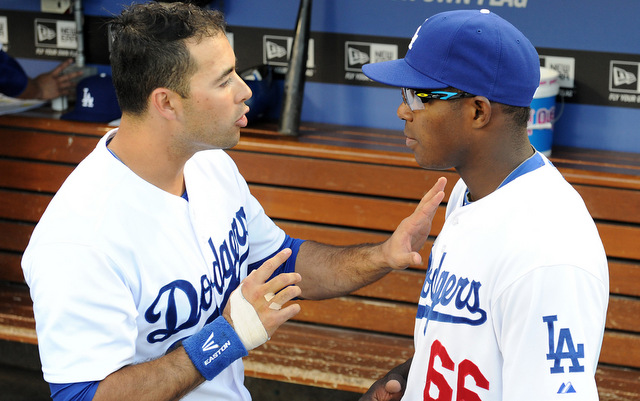 More MLB: Scoreboard | Standings | Probable Pitchers | Sortable Stats | Odds
Let's called it a modified Wally Pipp.
In 1925, Yankees first baseman Wally Pipp sat out a game with a headache. His replacement: a rookie named Lou Gehrig. Gehrig went on to become one of the greatest players in baseball history while Pipp, who was a fine player in his own right, lost his job due to an injury.
in 2013, Andre Ethier is losing his job because of injuries to Matt Kemp and Carl Crawford. Rookie outfielder Yasiel Puig has stolen the show during his one week in the big leagues, so much that Ethier is expected to be pushed out of the Dodgers outfield picture when the super-high-priced Kemp and Crawford return. Like I said, a modified Pipping. Losing a job due to injuries to other players.
The 22-year-old Puig has gone 8-for-19 (.421) with five home runs and 10 RBIs in his five games with Los Angeles, making the Dodgers look very smart for investing $42 million across seven years in the Cuban defector last summer. Either, on the other hand, has managed a poor .232/.320/.354 (90 OPS+) batting line with four homers in 58 games this year. Even worse, he's owed more than $70 million between now and 2017.
Kemp, Crawford and their nine-figure contracts are unlikely to be traded and Puig is untouchable right now, so Ethier figures to be the odd man out once everyone gets healthy. Earlier this month, CBSSports.com's Jon Heyman spoke to rival executives who said the Dodgers would have to eat significant money to move him, which isn't a surprise. "I bet they'd have to eat half [the $70-plus million]," said one GM.
Despite the poor year, Ethier is still a capable albeit limited player. He rates as a poor defensive outfielder and he hasn't hit left-handed pitchers in years (.226/.278/.328 since 2010), plus he's usually good for missing a few weeks due to injury as well. That said, he's an outstanding hitter against right-handers, with a .311/.395/.507 line against them since 2010. He hasn't done much against them this year (89 OPS+), but it's only 152 plate appearances and that should change as the summer progresses.
The 31-year-old fits best with an American League team who can have him split time between the outfield and DH with a right-handed platoon partner. Ethier is not a $15+ million a year player as his contract suggests, but if Los Angeles eats enough to turn him into an $8-9 million a year player, they'll find some takers. Here are five teams that could be possible trade fits.
Seattle Mariners
The Mariners actually spoke to the Dodgers about an Ethier trade over the winter, according to Heyman, but talks didn't advance very far. Seattle acquired four veteran power bats this winter -- Raul Ibanez, Kendrys Morales, Jason Bay and Mike Morse -- but all four are due to become free agents. Ethier is someone they could control for a few years.
Texas Rangers
Both Nelson Cruz and David Murphy are due to become free agents this winter; ditto Lance Berkman. Mike Olt could potentially fill one outfield spot, but Ethier would give them some veteran protection and a much-needed left-handed bat in the middle in the lineup. Outside of Adrian Beltre, Texas has steered clear of long-term contracts for players over 30, however.
Boston Red Sox
Jacoby Ellsbury is due to hit free agency this winter, and while prospect Jackie Bradley Jr. is ready to step right in, Ethier could share time in the corners with Shane Victorino, Daniel Nava and Jonny Gomes. Then again, Boston did just rid itself of a bunch of long-term contracts by dumping them on the Dodgers, so they might not be so willing to take on even part of Ethier's contract. His long-time friendship with former Arizona State teammate Dustin Pedroia would likely be a nonfactor in the front office's decision.
Kansas City Royals
The Royals went to great lengths to improve their pitching staff this year, now they need to repair an offense that ranks 22nd in baseball with an average of 3.8 runs per game. Jeff Francoeur is terrible and neither Eric Hosmer nor Mike Moustakas is living up to the hype, so adding Ethier would give Alex Gordon and Billy Butler a legitimate running mate. There appears to be a hint of desperation coming out of Kansas City, and never underestimate a desperate team when it comes to trading unwanted players.
New York Yankees
The Yankees have made it no secret they want to get under the $189 million luxury tax threshold in 2014 and beyond, so in that sense Ethier is no fit. Then again, their outfield is a mess outside of speedy leadoff hitter Brett Gardner. Ichiro Suzuki and Vernon Wells are showing their age and Curtis Granderson is due to become a free agent this winter. Top outfield prospects Slade Heathcott and Tyler Austin haven't exactly thrived in Double-A either. New York loves their veterans and has a way of swooping in unexpected on deals like this.