Mike Matheny doesn't care for up-and-in pitches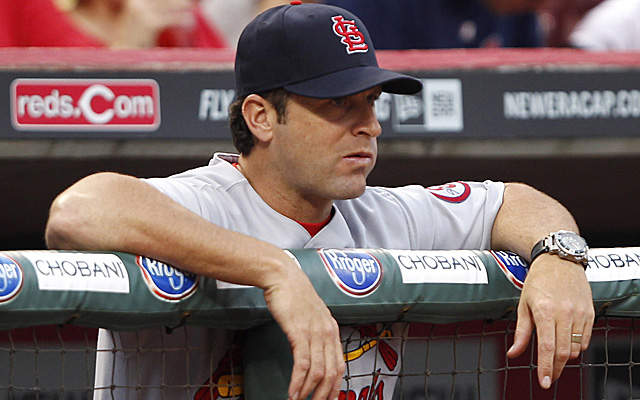 More MLB: Scoreboard | Standings | Probable Pitchers | Sortable Stats | Odds
In light of the Diamondbacks-Dodgers fracas from Tuesday night -- specifically D-Backs hurler Ian Kennedy hitting guys with a pitch twice in the area of the head -- head-hunting was much discussed Wednesday around baseball.
Cardinals manager Mike Matheny is against any pitches high and tight, including those pitches not designed to hit the batter.
"I do know if you pitch inside -- and my predecessor was also quick to point out that we're dealing with humans out here, not machines, and mistakes happen," Matheny told reporters. "It's scary when they happen up in that area. I have no problem with guys pitching inside. The only time I've had problems this year is when I've seen catchers being very deliberate coming up and in and I never did that in my career. I've never once asked our guys to do that. I never will. Coming inside is one thing. But when you start putting targets up by guys heads -- which I didn't see that yesterday -- I just don't think there's room in the game for messing around with guys' heads."
Matheny even singled out one club in particular, though he wouldn't name it:
"I think there are different philosophies on different clubs," Matheny said. "There is a club that we've faced a number of times this year that they keep emphasizing they want the catcher standing up behind the guy inside. That stuff drives me crazy. I don't think there's any room for it. I really don't. Have we missed up high? Yeah. I'm going to tell you once again we've got humans out there that are going to make mistakes and the ball is going to take off. But as far as a team philosophy? No way. I don't think it's right."
According to the St. Louis Post-Dispatch, however, another Cardinals team member said Matheny was referring to the Cubs.