Reports: Troy Tulowitzki has broken rib, out 4-6 weeks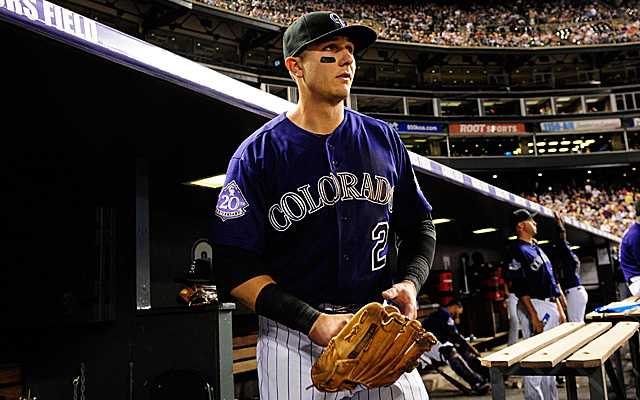 More MLB: Scoreboard | Standings | Probable Pitchers | Sortable Stats | Odds
After losing Carlos Gonzalez to injury in Thursday's game against the Nationals, the Rockies lost another superstar. Only this one was much worse. Shortstop Troy Tulowitzki was forced to leave the game after the seventh inning with a rib injury.
Tulowitzki had an MRI after the game, and Troy Renck of the Denver Post is reporting that it revealed a broken rib and that Tulowitzki is facing "a lengthy absence."
And now Rockies.com is reporting that Tulowitzki is expected to miss four to six weeks.
Apparently, Tulowitzki was already dealing with pain in his ribcage, and when he made a diving attempt at a groundball in the seventh inning, the issue was exacerbated.
"The ribs have been a lingering problem for him. When he came off the field, it was very evident he was done," said manager Walt Weiss (denverpost.com).
Weiss also reportedly noted that, yes, he was very concerned they have lost Tulo for a while.
Tulowitzki, 28, is hitting .347/.413/.635 with 16 doubles, 16 homers, 51 RBI and 41 runs this season. As he often does when healthy, he looked to be in MVP form.
Unfortunately, the "when healthy" caveat is needed far too often with Tulowitzki. A trip to the DL would be the fifth of his career. He only played 101 games in 2008, 122 in 2010 and 47 last season.
Tulowitzki is currently on the sixth year of a seven-year, $45 million deal. In 2015, he begins a six-year, $118 million deal.