2013's under-the-radar breakout and disappointing players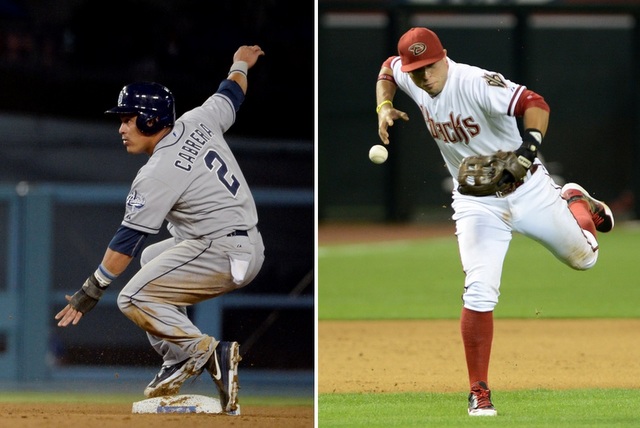 More MLB: Scoreboard | Standings | Probable Pitchers | Sortable Stats | Odds
It feels like Opening Day was just last week, but it's already the middle of June and each team has fewer than 100 games remaining in their regular season schedule. Not much fewer, but fewer.
Each season tends to produce a healthy amount of surprises, and 2013 is no different. The Athletics have looked downright unbeatable at times while the Marlins are ready to challenge the 1962 Mets in terms of historic ineptitude, for example. Well, maybe that last part isn't such a surprise.
Individual players have broken out as well, such as Chris Davis and Patrick Corbin. Others, like Josh Hamilton and R.A. Dickey, have disappointed. Here are three lower-profile players who fit into the breakout categories, and another three who classify as disappointments so far this season.
Breakout Players
Do you know who led the NL in stolen bases last year? Do you know who leads the NL in stolen bases right now? The answer to both questions is Cabrera, San Diego's 26-year-old shortstop. He swiped 44 bags in only 115 games last year, and so far this season he's upped the pace to 30 steals in 66 games. Cabrera is hitting .295/.374/.413 (125 OPS+) and playing strong defense, which already makes him a 2.8 WAR player.
Josh Donaldson, Athletics
Oakland acquired the 27-year-old Donaldson from the Cubs as part of the Rich Harden trade years ago, but he's spent the last few years trying to make his way as a catcher. The A's freed him of the tools of ignorance for good in 2012, when he took over at the hot corner. It appears that not having to work on his catching skills has allowed his bat to blossom, as he's hitting .310/.377/.500 (143 OPS+) with nine home runs in 67 games. That performance has been worth 2.9 WAR when you add in above-average defense at third base. None sure you'll find a quieter near-.900 OPS out there.
It's been a long time since Baseball America ranked Bailey as the fifth best prospect in baseball (six years, to be exact), but he's just now finally living up to his promise as a future ace. The 4-4 record and 3.47 ERA don't look all that special, but look behind the scenes. The 27-year-old has a career-high strikeout rate (9.0 K/9), a career-high ground ball rate (49.8 percent) and career-low home run rate (0.4 HR/9) while maintaining his usually low walk rate (2.4 BB/9). Bailey has taken a major step forward this year and soon enough his W-L record and ERA will match up with the dynamite underlying performance.
Disappointing Players
A knee injury limited Hammel, 30, to only 20 starts last season, but those 20 starts were very good: 8-6 record with a 3.43 ERA and career-high 8.6 K/9 and 53.2 percent ground ball rates. There was some tangible evidence behind his improvement as well, as the Orioles got him to focus more on his low-to-mid-90s two-seam fastball and mid-80s slider. Rather than build on that success with a healthy knee in 2013, Hammel isn't missing nearly as many bats (6.0 K/9) or getting as many ground balls (41.4 percent), which is why his homer rate (1.5 HR/9) sits so bloody high. Maybe last year was just an abberation despite the change in approach, but Baltimore's Opening Day starter's inability to repeat his 2012 effort is a big reason why they sit in the middle of the AL East pack and not at the top.
Pagan, 31, is currently on the DL and has been battling nagging hamstring problems all season, which have surely hurt his performance at the plate. After hitting .288/.338/.440 (120 OPS+) with 29 stolen bases last year, Pagan is down to .262/.314/.374 (99 OPS+) with six steals (in 10 attempts) this year. As an added bonus, his defense in center has rated a bit below-average by the various fielding stats. The combination of declining offense and defense puts Pagan at 0.1 WAR through the team's first 65 games, which is replacement level for all intents and purposes.
I could have put Prado's teammate Miguel Montero (63 OPS+) here, but I'm less surprised by catcher falling off a cliff than I am an infielder. Catching is tough.
Prado, 29, was the center piece of the Justin Upton trade, giving the Diamondbacks the kind of high-energy player they reportedly desired. He's responded by hitting .248/.300/.340 (75 OPS+) with only one stolen base in five attempts, easily his worst season in the big leagues. Perhaps it has to do with Arizona bouncing him around four different positions, but that isn't anything new to him. Prado has been moving around for years; that versatility is one of his greatest attributes. It's just a disappointing year at the plate, that's all. It happens, sometimes even after a major trade.