AL All-Star ballot update: Oriolesmania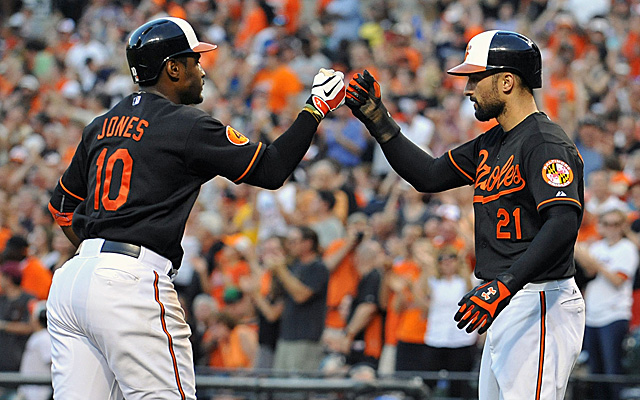 More MLB: Scoreboard | Standings | Probable Pitchers | Sortable Stats | Odds
Major League Baseball has released its latest tally for the American League ballot in All-Star Game voting. And Baltimore fans are doing their job for their team like no other.
Four Orioles -- first baseman Chris Davis, shortstop J.J. Hardy, right fielder Nick Markakis and center fielder Adam Jones -- would be starting if balloting was closed. Third baseman Manny Machado and catcher Matt Wieters are currently second in voting and left fielder Nate McLouth is seventh among outfielders, from which the top three start.
Fans can continue to vote on MLB.com until Thursday, July 4, at 11:59 p.m. ET.
Here are the voting tallies released by MLB:
FIRST BASE
Chris Davis, Orioles 2,999,094
Prince Fielder, Tigers 1,980,129
Mike Napoli, Red Sox 744,334
Albert Pujols, Angels 693,062
Mitch Moreland, Rangers 645,071
SECOND BASE
Robinson Cano, Yankees 2,409,512
Dustin Pedroia, Red Sox 1,635,674
Ian Kinsler, Rangers 1,123,654
Omar Infante, Tigers 872,142
Jose Altuve, Astros 734,896
SHORTSTOP
J.J. Hardy, Orioles 1,871,010
Elvis Andrus, Rangers 1,358,412
Jhonny Peralta, Tigers 1,322,791
Jed Lowrie, Athletics 1,019,861
Derek Jeter, Yankees 669,698
THIRD BASE
Miguel Cabrera, Tigers 3,277,890
Manny Machado, Orioles 1,626,209
Adrian Beltre, Rangers 1,105,706
Evan Longoria, Rays 898,422
Josh Donaldson, J. Athletics 500,773
CATCHER
Joe Mauer, Twins 2,127,175
Matt Wieters, Orioles 1,615,625
A.J. Pierzynski, Rangers 885,137
Carlos Santana, Indians 864,779
Jarrod Saltalamacchia, Red Sox 748,725
DESIGNATED HITTER
David Ortiz, Red Sox 2,488,451
Lance Berkman, Rangers 1,239,521
Edwin Encarnacion, Blue Jays 769,322
Mark Reynolds, Indians 745,058
Mark Trumbo, Angels 722,667
OUTFIELD
Adam Jones, Orioles 2,740,505
Mike Trout, Angels 2,710,115
Nick Markakis, Orioles 1,463,392
Torii Hunter, Tigers 1,425,571
Jose Bautista, Blue Jays 1,379,251
Nelson Cruz, Rangers 1,310,079
Nate McLouth, Orioles 1,300,158
Alex Gordon, Royals 1,040,685
Jacoby Ellsbury, Red Sox 1,004,434
Yoenis Cespedes, Athletics 926,611
Coco Crisp, Athletics 869,153
Josh Hamilton, Angels 726,485
Austin Jackson, Tigers 712,623
Shane Victorino, Red Sox 682,220
Ichiro Suzuki, Yankees 620,734