Are Chris Davis, Miguel Cabrera in for epic AL MVP battle?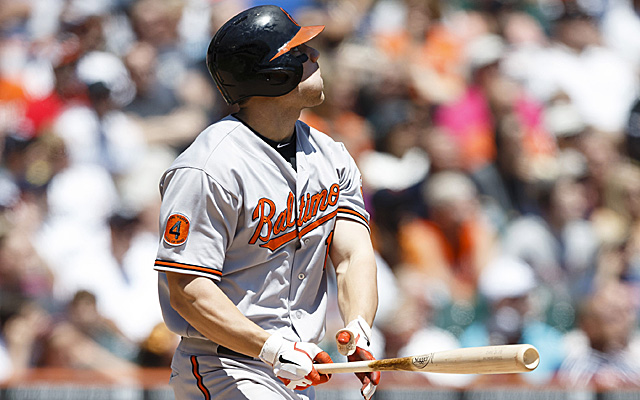 More MLB: Scoreboard | Standings | Probable Pitchers | Sortable Stats | Odds
Remember the great AL MVP debate of 2012? We may have another.
Yeah, I know, most of us want to forget it. The media and fan arguments got pretty ugly on Al Gore's Internet -- from the mainstream media to the smallest of fan message boards and spilling into local pubs everywhere.
Regardless, if things continue as they have to this point in the season, and we're close to halfway home, there's going to be another battle at the top.
Chris Davis slugged two homers and drove home five runs Wednesday in Detroit as the Orioles took two of three from the AL Central-leading Tigers.
Davis had a big series, but so did Tigers superstar Miguel Cabrera, who -- as noted by the Associated Press -- became the first man since Ted Williams in 1948 to collect at least 100 hits and 71 RBI through his team's first 70 games. Sure, it's a rather arbitrary way to cherry-pick a hot pace, but Cabrera's numbers are so good it's worthy of digging up such gems.
Then again, Davis may well win an MVP vote over Cabrera if it were held right now. He'd at least have a legitimate shot. I'm not talking about who I'd vote for because I don't have a vote. But let's take a look at the traditional numbers -- where most MVP voters still stand -- side-by-side, through Wednesday's action:
Who would be AL MVP right now?
Slugger
AVG
OBP
SLG
HR
RBI
H
R
2B
Chris Davis
.337
.413
.720
26
66
89
51
23
Miguel Cabrera
.361
.452
.632
19
71
100
55
16
We also know the voters hold team performance near and dear in MVP voting. Both of these teams are currently in playoff position and the Orioles (42-31) have a bit better record (39-31).
There's no wrong choice. Davis has Cabrera on the power, Cabrera takes the rest and it's all relatively close -- or at least seems to even out in the end. It would likely be a toss-up. With the vote over 85 games away, the question is: Will these two stay neck-and-neck?
We know Cabrera can keep up a torrid pace. He's done so ever since he came into the league as a teenager. Even if his numbers fall off a little, he'll be among the best hitters all season. He's also the easy answer to "who is the best hitter on the planet?" when taking career pedigree and current performance all under consideration.
So can Davis keep pace?
There's a chance, and it's not unreasonable to say he can.
First of all, talented batters make adjustments at the big-league level and breakout seasons happen. To stick in the same division, we saw it happen recently with Jose Bautista of the Blue Jays. And Davis has always had big-time power. He hit 17 homers in 295 at-bats as a 22-year-old rookie in 2008. He hit 21 homers the next season in 391 at-bats, but he fell out of favor with the Rangers due to his issues with the strike zone. Namely, he struck out far too often while rarely walking. Some was pitch selection and some was him just not being able to make consistent contact.
Even last season, which at the time appeared to be Davis' breakout campaign, he struck out 169 times against only 37 walks -- which were a career high. So far this year, in only 72 games, Davis has drawn 32 walks.
The difference is Davis has swung at about five percent fewer pitches outside the strike zone than he did last season while also making better contact. As a result, he's seeing fewer strikes but absolutely punishing the ball when he does get one. This shows he's fully adjusted to big-league pitching and that it's not unreasonable to parlay his adjustments into an MVP-caliber season, given the significant amount of hitting talent he possesses.
If Davis can keep it up, the AL MVP race is once again going to be a popular topic down the stretch. It may not contain the venom of last year's race -- pitting old-school vs. new-school stats -- since both Davis and Cabrera have similar skill sets, but it'll be an argument nonetheless.
It's up to Davis.