NL All-Star ballot update: Extremely tight races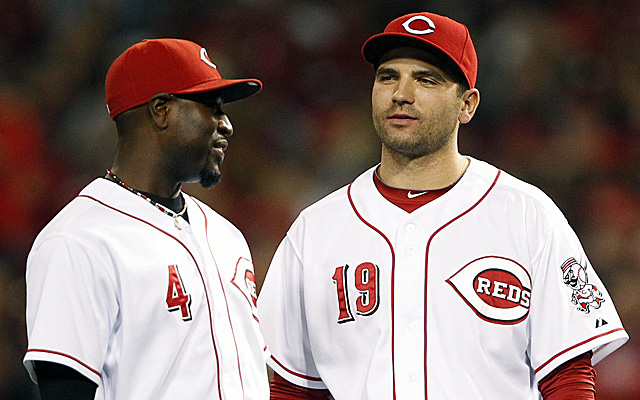 More MLB: Scoreboard | Standings | Probable Pitchers | Sortable Stats | Odds
The latest update of the National League All-Star ballot voting totals has been released by Major League Baseball, and there are some ridiculously close races.
Let's start with the leaders, though. The starters right now would be: Yadier Molina, Joey Votto, Brandon Phillips, Troy Tulowitzki (he'll need an injury replacement, of course), David Wright, Carlos Beltran, Justin Upton and Bryce Harper.
Still in serious contention for starting spots, however, are Buster Posey, Paul Goldschmidt, Marco Scutaro, Matt Carpenter, Pablo Sandoval, Carlos Gonzalez, Ryan Braun and Matt Holliday.
Here are the latest totals:
FIRST BASE
Joey Votto, Reds 2,677,813
Paul Goldschmidt, Diamondbacks 2,270,886
Allen Craig, Cardinals 1,801,138
Brandon Belt, Giants 1,323,511
Freddie Freeman, Braves 1,181,657
SECOND BASE
Brandon Phillips, Reds 2,597,742
Marco Scutaro, Giants 2,272,484
Matt Carpenter, Cardinals 2,251,248
Chase Utley, Phillies 1,136,890
Daniel Murphy, Mets 1,088,224
SHORTSTOP
Troy Tulowitzki, Rockies 3,104,285
Brandon Crawford, Giants 1,757,255
Jean Segura, Brewers 1,625,753
Pete Kozma, Cardinals 1,354,974
Andrelton Simmons, Braves 965,016
THIRD BASE
David Wright, Mets 2,917,819
Pablo Sandoval, Giants 2,788,988
David Freese, Cardinals 1,728,322
Chris Johnson, Braves 1,008,552
Aramis Ramirez, Brewers 881,559
CATCHER
Yadier Molina, Cardinals 3,596,858
Buster Posey, Giants 3,506,402
John Buck, Mets 1,087,519
Jonathan Lucroy, Brewers 845,519
Miguel Montero, Diamondbacks 799,837
OUTFIELD
Carlos Beltran, Cardinals 3,473,030
Justin Upton, Braves 2,453,531
Bryce Harper, Nationals 2,363,965
Carlos Gonzalez, Rockies 2,060,388
Ryan Braun, Brewers 2,010,310
Matt Holliday, Cardinals 1,947,864
Andrew McCutchen, Pirates 1,777,568
Hunter Pence, Giants 1,732,843
Shin-Soo Choo, Reds 1,566,597
Angel Pagan, Giants 1,541,055
Carlos Gomez, Brewers 1,393,464
Jon Jay, Cardinals 1,321,149
Gregor Blanco, Giants 1,210,892
Domonic Brown, Phillies 1,107,632
Jay Bruce, Reds 978,994