Brett Gardner: The AL's under-the-radar All-Star candidate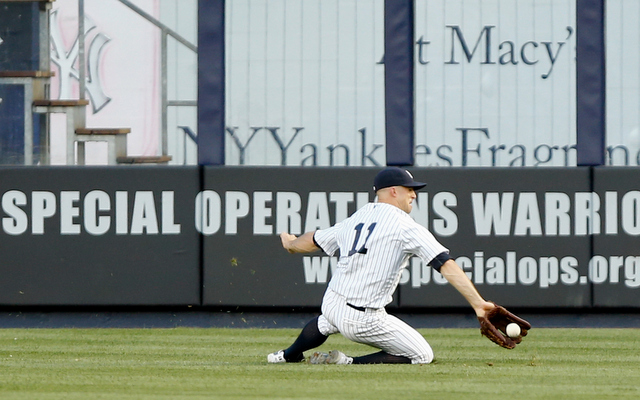 More MLB: Scoreboard | Standings | Probable Pitchers | Sortable Stats | Odds
Barring injury, the Yankees will send at least two players to the All-Star Game in a few weeks. Robinson Cano sits comfortably atop the fan voting at second base, and Mariano Rivera (26 saves, 1.61 ERA) is a lock for the bullpen in his final season. CC Sabathia and Hiroki Kuroda have had fine-but-not All-Star-worthy seasons, and otherwise injuries have ravaged New York's roster.
Cano and Rivera are not the Yankees' only two legitimate All-Star Game candidates, however. Speedy center fielder Brett Gardner is making a push for the Midsummer Classic at Citi Field after missing basically all of last year due to an elbow injury. Among AL outfielders, the Yankees' everyday leadoff hitter very quietly ranks third in FanGraphs WAR (2.6) while actually leading in Baseball-Reference WAR (2.8).
Gardner's case for the All-Star Game is an unconventional one. The 30-year-old is hitting a solid-but-generally unspectacular .287/.349/.444 (115 OPS+) with six home runs and 11 stolen bases this year, though it's worth noting he's managed a stellar .328/.381/.523 line over his last 34 games. Considering he once led the league in stolen bases and has a pair of 40-plus-steals seasons to his credit, his 11 steals (in 16 attempts) are disappointing.
Aside from the offense, Gardner's case is built primarily on his defense. He leads all big-league outfielders in UZR (+52.0) and DRS (+59) from 2010-12 despite missing almost all of last year, though that is slightly misleading. Gardner played left field in deference to Curtis Granderson during that time, so the various defensive metrics were comparing him to other left fielders, who tend to be slow and defensively challenged. That boosted his defensive score a bit.
This year, though, Gardner has played center field since Day 1 -- the Yankees were planning to make him their everyday center fielder with Granderson sliding to left even before Granderson got hurt in spring training -- and he has again provided elite defense. He ranks sixth in UZR (+5.3) and third in DRS (+6) among all outfielders this year, placing him firmly among the best defenders in the game despite moving to a harder position. Above-average offense with elite defense is how you wind up with such a high WAR.
Each league typically takes six or seven outfielders to the All-Star Game, and right now Adam Jones and Mike Trout are locks for this summer's event based on the fan voting. They both have more than a 1.5-million vote cushion over every other AL outfielder. Nick Markakis ranks third in the voting but could soon be passed by Jose Bautista, who is likely heading to the game either way. Torii Hunter and Jacoby Ellsbury have generated a lot of support as well. That's six outfielders right there, not counting Nelson Cruz or Alex Rios.
Is there room in the All-Star Game for a defense-first outfielder? Not really. That type of player typically doesn't appeal to a national audience. The closest that we've seen in recent years are Ichiro Suzuki and Carl Crawford, both of whom were much better hitters during their All-Star seasons than Gardner is now. If the Yankees' center fielder continues his recent hot streak for another few weeks and further boosts his batting line, perhaps he can sneak into the game as a replacement. Otherwise, he will continue to fly under the radar as one of the game's most productive outfielders because he does it with great defense rather than great offense.