New EOB Heavyweight Champion: Washington Nationals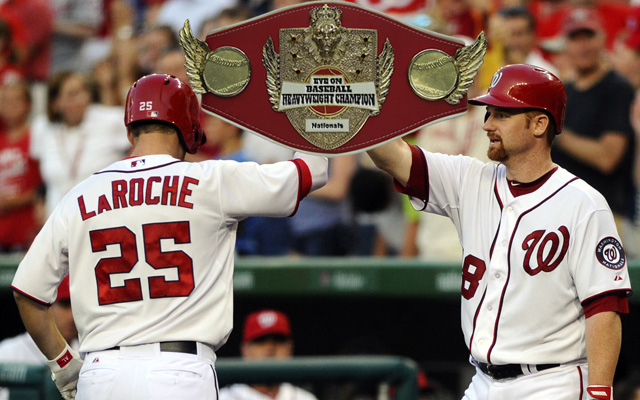 More MLB: Scoreboard | Standings | Probable Pitchers | Sortable Stats | Odds
After taking the first two games of a three-game series against the Arizona Diamondbacks -- who entered the series holding the prestigious Eye on Baseball Heavyweight Championship belt -- the Washington Nationals are our new champions.
Huh? WTH is that?
Fret not. Here's an intro to those new or a refresher if any regulars need to be reminded of the rules:
Since the concept of championship belts is cool in boxing, MMA and sports entertainment (aka pro wrestling), the Eye on Baseball team has decided to create a Heavyweight Championship belt for the 2013 season.

As the defending World Series champions, the Giants entered the season with the strap. From there, here are our rules.

1. A team must win a series from the champion to take the belt. One game isn't going to cut it, considering it's a 162-game season and teams all view the season in terms of series.

2. If the belt-holder splits a series (two- or four-game series), it retains. Much like on a draw in boxing or a count-out situation in pro wrestling, you don't get the belt unless you actually beat the champion. A tie isn't good enough.

3. If, at the end of the regular season, the belt-holder does not make the playoffs -- and due to the dynamics of this thing, that scenario is entirely plausible -- said team will be stripped of the title for not qualifying for the postseason. Then the winner of the playoffs -- the World Series -- takes the belt and the title into the offseason.
So under No. 2, the Nationals have pinned the former champion Diamondbacks and exited the ring with the strap.
Here's a look at where we've been along with our updated June calendar.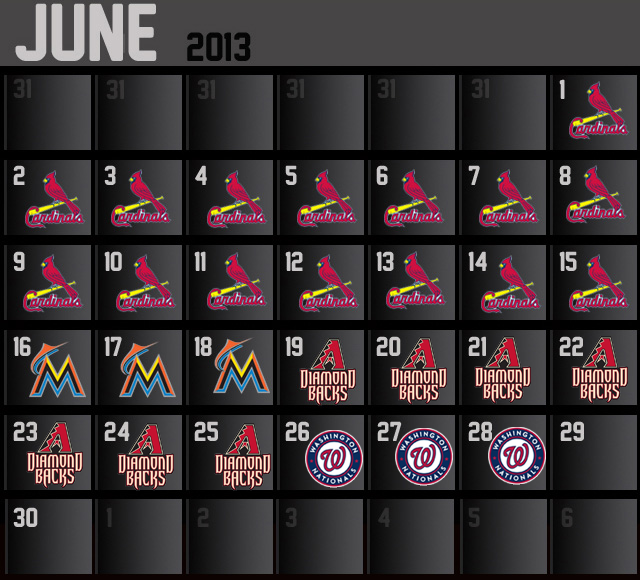 Next up for a shot at the new champ: The New York Mets, who would become the second unlikely champion of the past few weeks, along with the Marlins, if they can pull off the upset. And considering how up and down the Nationals have been this season, it's entirely possible.
For now, though, the EOB Champs reside in our nation's capital.