Homer Bailey throws first MLB no-hitter of 2013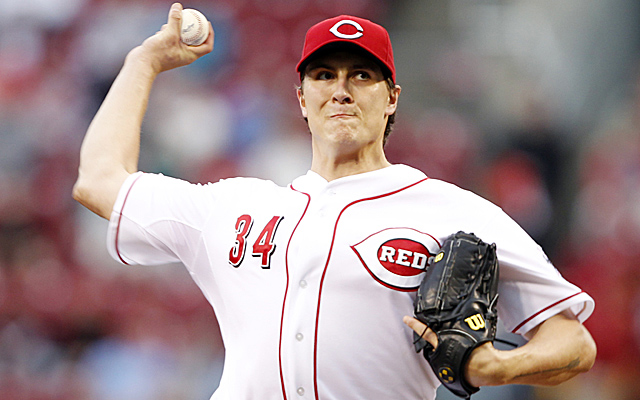 More MLB: No-hitter history | Game stats | Full Play-by-Play | Bailey no-hits Pirates in 2012
Reds starting pitcher Homer Bailey threw a no-hitter against the Giants on Tuesday night in Cincinnati, in a 3-0 Reds victory. He dominated from start to finish, striking out nine and taking a perfect game into the seventh, when he walked leadoff man Gregor Blanco.
Later in the seventh, Reds first baseman Joey Votto made an excellent play to preserve the no-no. With a runner on second base, Buster Posey hit a blooping flare between first and second. Bailey was slow to cover first while Votto was too far off the bag to beat Posey there. Blanco began the play on second but the ball off Posey's bat was in the air long enough to delay when Blanco broke for third. When he did break, Votto noticed him and threw him out at third base, qualifying for a fielder's choice and keeping the no-hitter alive.
Otherwise, the Giants really didn't even threaten to get a hit later in the game, as Bailey cruised.
Bailey is no stranger to no-hitter drama. In fact, he was the last pitcher to throw a no-no, which happened Sept. 28, 2012, in Pittsburgh. There have been zero no-hitters prior to this point in the 2013 season after seven last season. The last pitcher to throw MLB's two most recent no-hitters at any given point in time was Nolan Ryan, with his third (Sept. 28, 1974) and fourth (June 1, 1975).
The last time a Reds pitcher threw a no-hitter at home was Sept. 16, 1988, when Tom Browning threw a perfect game.
The only active players with more than one no-hitter are now Bailey, Justin Verlander, Mark Buehrle and Roy Halladay.