Rangers fans are not fond of umpire Kerwin Danley
More MLB: Scoreboard | Standings | Probable Pitchers | Sortable Stats | Odds
In Tuesday night's Yankees-Rangers game -- an eventual comeback win for the Yanks -- plate umpire Kerwin Danley failed to endear himself to Texas fans.
The game featured a number of sparkling defensive plays on both sides, but it will be remembered for Joe Nathan's blown save in the ninth. The New York rally began when Vernon Wells worked a one-out walk off Nathan. Here, courtesy of Brooks Baseball, is a strike-zone map of their encounter ...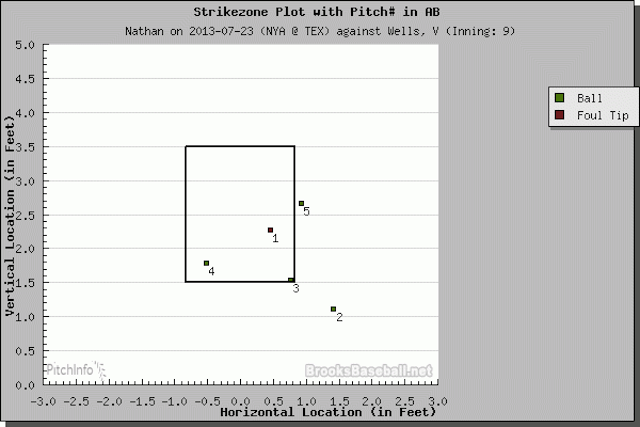 As you can see, Nathan was being squeezed by Danley in the lower part of the strike zone. The fourth pitch of the AB, which you see noted above, was this one:
That Nathan missed his spot just a bit -- and that A.J. Pierzynski, as a consequence, had to make a bit of a stabbing action in order to receive the pitch -- surely had something to do with the call. As well, that Pierzynski tries to frame it by pulling the pitch back up probably made it seem a bit lower than it really was. With all that said, that was a strike, and Danley missed the call. The next batter up, Eduardo Nunez, tripled home Wells to tie it, and then Brent Lillibridge singled to plate Nunez with the go-ahead run. From Nathan's standpoint, it all cascaded from the walk to Wells, almost palpably so.
What compounded the miseries of Rangers fans (seriously, Mr. Danley was all but trending on Twitter) was the zone presented to pinch-hitter Leonys Martin when he faced the great Mariano Rivera with one out in the home half of the ninth ...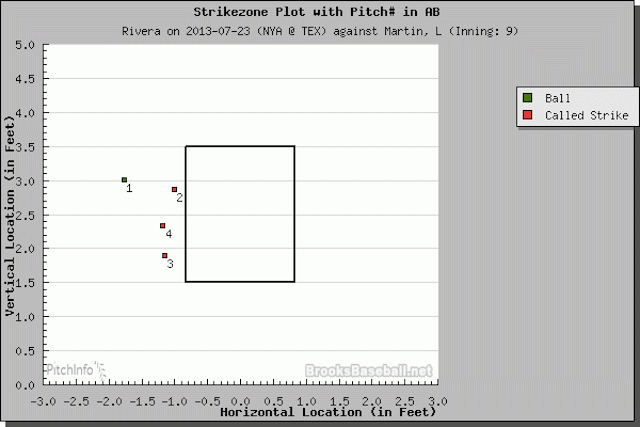 Martin didn't swing at a pitch in the entire at-bat, yet struck out without ever seeing a strike. Rivera, it should be noted, needs no such help from the umpire.
No game is reducible to a single blown call or even a sequence of blown ball-strike calls like what you see above. But it's a contributing factor, to say the least.
For what it's worth, though, on the night Danley's zone was truly off only on outside pitches to right-handed batters, which doesn't quite apply to the instances noted above.
Still, conspiracy theories weren't hard to find ...
Kerwin Danley still holding a grudge against the Rangers for getting hit in the head by Hank Blalock. Joe is getting squeezed.

— Matt Schultz (@mbschultz74) July 24, 2013