Huge memorabilia sale to feature Honus Wagner T206 card
With an asking price of $1.2 million, the famous T206 Honus Wagner baseball card will headline a baseball memorabilia freak's dream auction in Chicago from July 31 through Aug. 4.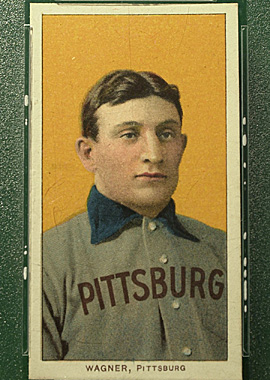 The National Sports Collectors Convention is to be held at the Donald E. Stephens Convention Center in Chicago and Lelands.com -- the leading sports auction site -- is selling off some outstanding merchandise.
"The National Sports Collectors Convention is the ultimate meeting place for dedicated sports collecting hobbyists," said Lelands.com founder and chairman, Josh Evans, in a statement. "We are bringing to the convention our best ever lineup of material for sale. In addition, we are seeking to buy memorabilia from both collectors and dealers at the National."
As already mentioned, the Wagner card is the star. The Pirates' star is widely regarded as one of the best players in baseball history, but there's more to the card's popularity than that.
Only 200 cards, pictured left, were produced by the American Tobacco Company (ATC) from 1909 to 1911, as Wagner refused to allow production of his card to continue. Only 60 of the cards were ever distributed to the public. Due to the age and rarity of the cards, very few are even in remotely decent condition. In April of 2012, a New Jersey man paid $1.2 million for a Wagner T206 card.
That card is not all there is to offer at this convention, however. From a Lelands.com press release, here are some other items:
• The only known game-used ball from Pittsburgh Pirates legend Roberto Clemente's last ever game -- Game 5 of the 1972 National League Championship Series
• The earliest known Michigan Football program (1881) and Harvard and Yale football and baseball programs and tickets from the 1870s and 1880s.
• The No. 3 Yankees pinstripe jersey worn by Babe Ruth's replacement, George Selkirk.
• A warm-up jacket worn by a member of the 1940s New York Rens, the first all-black basketball team.
• The earliest fully-signed NBA Championship basketball (1947-48 Baltimore Bullets).
• A one-of-a-kind 1887 Allen & Ginter "World Champion" framed poster used to promote the classic N28 baseball card set.
• An 1890's Genessee Athletics "Pitcher's" baseball uniform by A.G. Spalding – considered the best-ever non-Major League uniform.
So if you love sports memorabilia and have thousands -- or even millions -- of dollars to burn, get to Chicago this week.
UPDATE: Lelands.com has now announced that it's also selling Jackie Robinson's 1947 Rookie of the Year award for a cool $1 million. So, rich collectors, get to Chicago.
Photo credit: Getty Images