MLB may go after A-Rod by using CBA, not joint drug agreement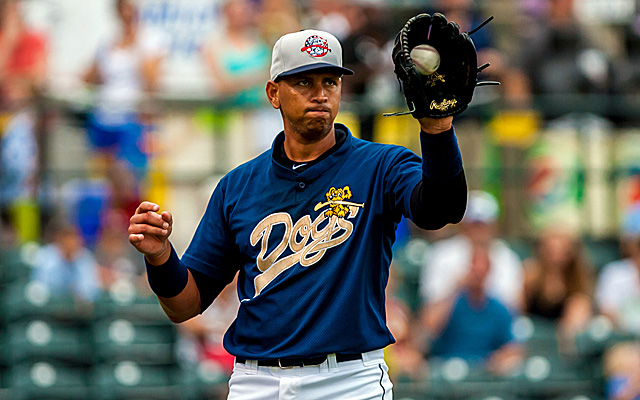 Major League Baseball is pursuing a suspension of embattled Yankees third baseman Alex Rodriguez based on a violation of the collective bargaining agreement instead of a violation of the joint drug agreement, the Associated Press reports.
What's the difference? Well, going after him for violating the CBA means the league can keep him off the field in the immediate future. If there's a drug violation, players can keep playing -- or in A-Rod's case, join the team when he's healthy -- while the appeals process plays out.
If there's a CBA violation, the player in question is suspended while a grievance is litigated before an arbitrator, unless the players association asks for a stay and the arbitrator -- in this case, Fredric Horowitz -- grants it.
Considering we've heard union president Michael Weiner publicly state the union wants the players with ties to Biogenesis to make deals and serve their suspensions, connecting the dots here says it's unlikely A-Rod would get a stay. Meaning if this report is true, he's nearing an immediate suspension whether he accepts MLB's deal or not.
According to the AP, here's how MLB can get A-Rod on a CBA violation:
Rodriguez could be punished under Article XII B of the Basic Agreement, which states: "Players may be disciplined for just cause for conduct that is materially detrimental or materially prejudicial to the best interests of baseball including, but not limited to, engaging in conduct in violation of federal, state or local law."
And along with some of the drugs A-Rod got from Biogenesis possibly being illegal, here's what the AP reports MLB has on him:
The Yankees expect Rodriguez to be accused of recruiting other athletes for the clinic, of attempting to obstruct MLB's investigation, and of not being truthful with MLB in the past when he discussed his relationship with Dr. Anthony Galea, who pleaded guilty two years ago to a federal charge of bringing unapproved drugs into the United States from Canada.
A-Rod still plans on fighting any suspension instead of cutting a deal, according to his attorney -- who also said their entire focus is on an appeal. A report from the New York Daily News on Sunday said Rodriguez has been offered a deal where he'd sit out the 2013-14 seasons and be eligible to return in 2015.
If he accepted the deal, A-Rod would still have three years and $60 million left on his deal. If he fights and loses, he may be facing a lifetime ban.
On the flip side, a Tulane law professor has weighed in:
If Selig suspends A-Rod to preserve integrity/maintain public confidence, MLBPA has right to reopen CBA for negotiation on that provision.

— Gabe Feldman (@SportsLawGuy) July 30, 2013
Either way, if Selig suspends A-Rod for a drug-related offense using his CBA powers and not the JDA, this will go from ugly to uglier...

— Gabe Feldman (@SportsLawGuy) July 30, 2013
If A-Rod suspended under CBA, he is entitled to "all documents & evidence adduced during any investigation of the charges involved"

— Gabe Feldman (@SportsLawGuy) July 30, 2013
So, essentially, even if MLB wants to do this, legally speaking, it may not be the best of ideas if they are trying to get rid of Rodriguez while also maintaining the integrity of the CBA.
And as far as we are concerned, this thing is far from over.