Angels trade Alberto Callaspo to Athletics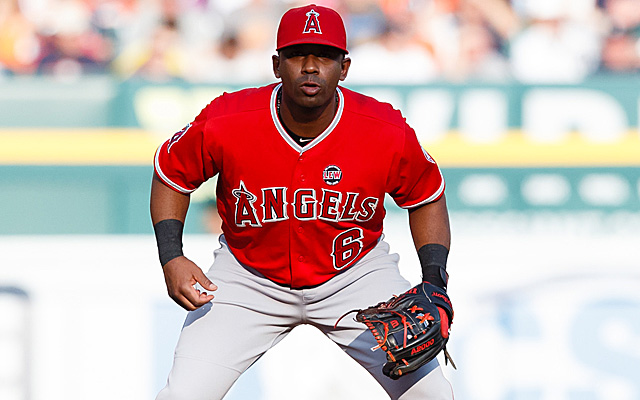 More deadline coverage: Rzepczynski to Tribe | Norris scratched from start | Peavy traded
The Angels have traded infielder Alberto Callaspo to the Athletics, reports CBSSports.com's Danny Knobler. The Angels will get back infielder Grant Green.
Callaspo will take over at second base for the A's. He's played exclusively at third base this year for the Angels, but he has experience at second, having played 1,773 2/3 innings in 217 games at second in his career.
Callaspo, 30, entered Tuesday night hitting .253/.323/.348 with 13 doubles, five homers, 36 RBI and 32 runs.
Heading into Tuesday, A's second basemen were collectively hitting .254/.320/.340 with 23 doubles and two homers. So the lines are a bit similar, but keep in mind that Jed Lowrie -- now the everyday shortstop -- hit well in 95 plate appearances, skewing things a bit.
Also of note: Callaspo is a switch hitter while lefty Eric Sogard struggles against left-handers (.184 average against heading into Tuesday).
Callaspo is a career .273/.334/.380 hitter.
Green, 25, was 0-for-15 in his debut stint in the majors with the A's this month. The 25 year old was a fairly highly-touted prospect in 2010 and 2011, but his stock has fallen considerably the past few years. Still, he's hitting .325/.379/.500 with 27 doubles and 11 homers in 87 Triple-A games this season -- albeit in the hitter-friendly Pacific Coast League -- so there's some talent in there.