Alex Rodriguez will play minor league rehab games this weekend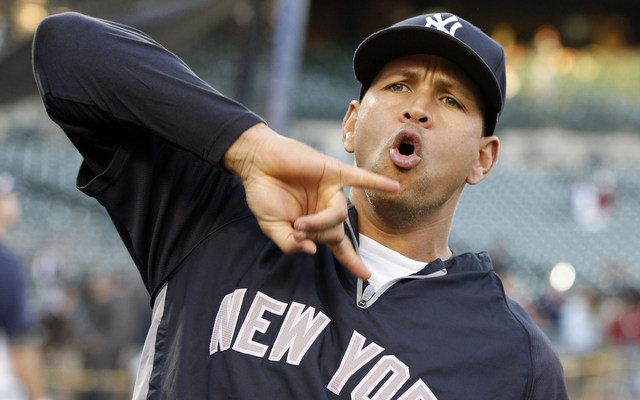 More MLB: Scoreboard | Standings | Probable Pitchers | Sortable Stats | Odds
Alex Rodriguez will play in a pair of minor league rehab games with Double-A Trenton on Friday and Saturday, the Yankees announced. He is working his back from a slightly controversial Grade 1 quad strain.
Rodriguez, 38, played in a simulated game at the team's padlocked complex in Tampa on Thursday, according to Scott Cacciola of the New York Times. The Yankees likely would have sent him out on the rehab assignment with High-A Tampa had the weather forecast not been so ugly.
Coincidentally, left-hander and Phillies prospect Jesse Biddle is scheduled to pitch against Trenton on Friday. He is one of the game's best pitching prospects, and a few weeks ago he had told Josh Norris of the Trentonian how much he'd like to face A-Rod:
"I would love to face A-Rod, obviously," Biddle said. "He's a future Hall of Famer. You want to pitch against those guys. You want to see how you do. You want to see how you stack up. I'm not going to pitch to contact — I'm going to try to strike him out."
Of course, it seems possible if not likely that A-Rod will be suspended for his connection to the South Florida anti-aging clinic Biogenesis before playing a big league game with the Yankees. He might be in the clear to face Biddle with Trenton this weekend, however.
MLB and commissioner Bud Selig are reportedly prepared to ban Rodriguez for life. They would be circumventing the Joint Drug Agreement and using a power in the collective bargaining agreement intended to preserve the integrity of the game. ESPN's T.J. Quinn says Rodriguez and MLB are not close to working out a plea agreement.
The Yankees open a series with the White Sox in Chicago on Monday. If A-Rod comes through the weekend rehab games fine, he could rejoin the team in the Windy City if no suspension is handed down between now and then.