Adam Jones says fan at AT&T Park threw banana at him
More MLB: Scoreboard | Standings | Probable Pitchers | Sortable Stats | Odds
Baltimore outfielder Adam Jones claims that, during Sunday's Orioles-Giants game, someone in the AT&T Park stands made a pretty stupid decision. Here's the relevant Twitter screengrab courtesy of NESN ...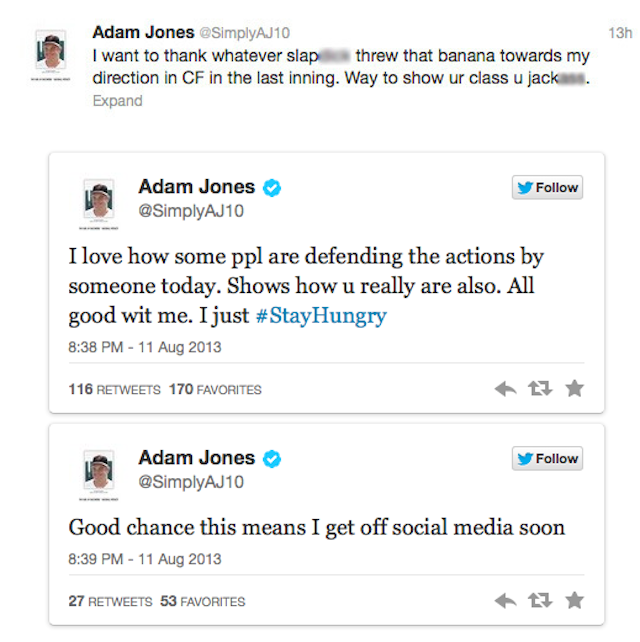 The NESN headline termed it a "racist gesture," and that may well be what the perpetrator intended. Whether a racist idiot or merely an idiot, the fan who threw the banana is, above all, an idiot.
As for the host Giants, they've issued a statement of apology:
"We were extremely disappointed to learn about the incident involving Adam Jones at AT&T Park yesterday. The Giants have a zero tolerance policy against this type of behavior, which results in immediate ejection from the ballpark. While we have been investigating the matter since we learned of the situation, unfortunately we have been unable to identify the person responsible. We would like to extend our sincerest apologies to Adam and the entire Orioles organization for this unfortunate incident. The inappropriate actions of this individual in no way reflect the values of our organization and our fans."
UPDATE: A Giants fan named Alexander Poulides stepped forward and claimed responsibility for the incident, reports Daniel Brown of the Mercury News. The relevant text:
"Oh, my god,'' Poulides said. "I threw a banana on my way out."

Poulides, 42, said he grabbed a banana off a catering cart and hurled it toward the field in disgust at the Giants near the end of a 10-2 loss at AT&T Park on Sunday. The banana apparently sailed toward Jones, who tweeted about the incident after the game.

As the Giants launched an investigation, Poulides reached The Mercury News via e-mail and subsequent phone call to claim credit for what he called "an indiscretion."

Above all all, Poulides stressed repeatedly that the incident was not a racially motivated, as some had speculated. He was upset at the Giants, not Jones."I'm embarrassed and shocked by the outcome,'' the Northern California resident said. "In hindsight, I wish I didn't do it and I apologize. I'm very sorry."
The Giants say they are unable to confirm Poulides as the culprit and continue to investigate the incident.