Numbers say Matt Harvey has had it pretty easy in 2013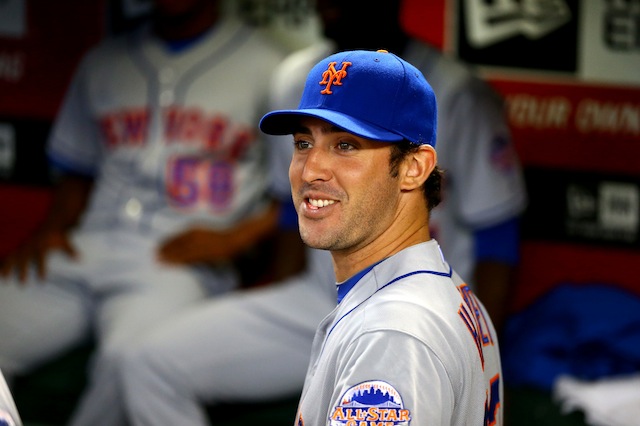 More MLB: Scoreboard | Standings | Probable Pitchers | Sortable Stats | Odds
There's no denying that Matt Harvey, the Mets' 24-year-old ace who will oppose Yasiel Puig and the Dodgers on Tuesday night, has had a brilliant season. The numbers are tremendous: 2.09 ERA, only one unearned run allowed, 171 ERA+, majors-leading 0.86 WHIP, NL-leading 178 strikeouts, 6.14 K/BB ratio, 29.3 strikeout percentage, quality start percentage of 78.0. He's a frontline starter in every sense of the term, and the future is unassailbly bright. With that said, Harvey, in terms of quality of opposition in 2013, has had a pretty easy go of it.
For instance, of Harvey's 23 starts this season, 12 have come against teams that rank in the bottom five of the NL in runs scored. More specifically, he has faced the Marlins, Nationals and Phillies -- the three worst offenses in the league according to WAR -- a total of 10 times. On the other side of things, Harvey, despite sharing a division with the best offense in the NL per WAR, has faced the Braves only one time in 2013.
To take the broader view, we'll turn to the statistical tools available at Baseball Prospectus. BP tracks each pitcher's average opponents' OPS -- i.e., the OPS (on-base percentage plus slugging percentage) of every hitter a pitcher has faced and arrives at an average. It's an excellent gauge of an individual pitcher's "strength of schedule."
As it happens, Harvey's OOPS (opponents' OPS) of .725 ranks dead last (or 110th) among pitchers with at least 100 innings in 2013. Last. By comparison, Clayton Kershaw of the Dodgers, Harvey's chief rival for the NL Cy Young Award (Kershaw should absolutely win it if trends hold), ranks 39th in OOPS. The Cardinals' Adam Wainwright, another Cy hopeful, ranks 92nd.
To be sure, Harvey has no control over how the schedule falls, and when he has faced tough opposing lineups he has fared reasonably well (3.15 ERA in three total starts against the Braves, Cardinals and Dodgers). As well, the weak slate does little to dim Harvey's long-term promise -- he and that 95-mph fastball and that hard slider are bound for great things, barring injury.
Still, when it comes to overall value in 2013 and awards discussions, the fact that Harvey has had an accommodating docket of opponents very much matters. With Harvey poised to be shut down after he reaches 200 innings or so, there's not a great deal of time for that to change.