The Bobblehead Project: Little person Eddie Gaedel steps in
This week's edition of The Bobblehead Project is an homage to the smallest player to ever appear in a Major League Baseball game. It's the 3-foot-7, 65-pound Eddie Gaedel:
As you can see, we're just four days away from the anniversary of Gaedel's famous appearance for the St. Louis Browns.
Gaedel was secretly signed to a deal by stunt-loving Bill Veeck. He was smuggled into the game secretly and used as a pinch hitter to lead off the second game of a doubleheader against the Tigers. He walked on four pitches. Here's more detail, thanks to SABR.org:
Between games of a doubleheader on Sunday, August 19, 1951, Veeck had a seven-foot birthday cake wheeled onto the field. Gaedel popped out, to the joy of the crowd. Detroit Tigers pitcher Bob Cain took the mound in the bottom of the first inning and warmed up. Browns' manager Zach Taylor then signaled for a pinch-hitter, Gaedel in for outfielder Frank Saucier. As Gaedel strode to the plate, umpire Ed Hurley turned and yelled, "What the hell?" Taylor presented Gaedel's contract to the umpire and, after some confusion and all-around amusement, Hurley called for a pitch. Gaedel, a righthander, walked on four pitches and took his base. Jim Delsing was sent in to pinch-run. Gaedel ran off the field to a standing ovation.
Here's a photo of the plate appearance, thanks to the Baseball Hall of Fame archives: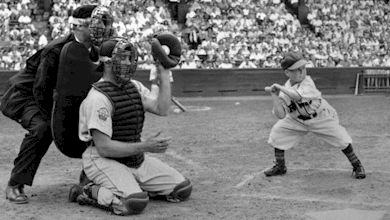 Two days later, American League president -- citing the "best interest of baseball" -- voided Gaedel's contract, essentially banning him from baseball. So Gaedel retired with a 1.000 on-base percentage!
I think my favorite part of the story is Gaedel's jersey number being 1/8. That's outstanding. And while his place in baseball lore is forever secure, we'd love to see him immortalized in the form of a bobblehead. Our entry into the project should only be the first step.
Thanks as always to our artist, Jarod Valentin.
Bobblehead Gallery (click on thumbnail) ...