GIF: Eric Sogard catches line drive, gets knocked down by broken bat
More MLB: Scoreboard | Standings | Probable Pitchers | Sortable Stats | Odds
It's amazing we don't see this happen more often. On Thursday afternoon, Athletics infielder Eric Sogard was hit by a broken bat as he fielded a soft line drive. Since the MLB.com video is not yet embeddable, here's a GIF: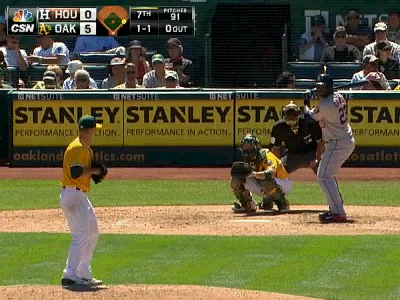 Sogard stayed in the game and was fine, but the end of that broken bat was really sharp and could have done some serious damage. He's pretty lucky this wound up a blooper rather than something more serious.
Like I said before, it's amazing this doesn't happen more often. I guess most broken bats wind up in foul territory or in the shallow infield.