Wil Myers and his quest for history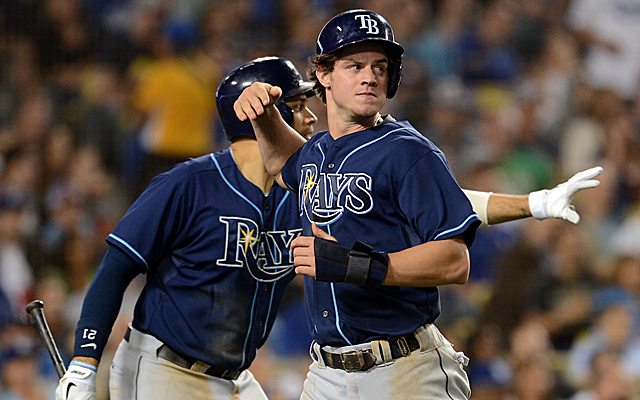 More MLB: Scoreboard | Standings | Probable Pitchers | Sortable Stats | Odds
After a six-game losing streak, the Tampa Bay Rays have righted the ship with two straight wins. Not coincidentally, rookie sensation Wil Myers has gone 4 for 8 with a homer and six RBI in those two wins.
At this point, Myers is the easy answer to the question: Who is the best rookie in the American League?
I'm wondering if he can win AL Rookie of the Year, though. I believe he can, but no AL Rookie of the Year position player has ever played fewer than the 101 games Bob Hamelin did in 1994 -- which, by the way, was a strike-shortened season. Since then, the fewest is 122, which came by Myers' teammate, Evan Longoria, in 2008.
If Myers plays every game the rest of the season, he will have appeared in 90 games. So it would be a record for the American League (Ryan Howard took the NL ROY with just 88 games played in 2005).
For me, I don't care about the number of games played for the most part. I mean, I'm not in support of giving the award to a dude who has played in 35 games, but more than half the season is enough for me if he has as good a case as Myers. But I'm not a voter. So I asked a member of the BBWAA about this issue.
"Given the weak field in the AL race this year, I don't think there is any question that it would be enough games," said my colleague Danny Knobler.
Which is a huge point in Myers' favor. He doesn't have to contend with the likes of Jose Fernandez and Yasiel Puig. There is no Mike Trout, Manny Machado or Bryce Harper in this AL rookie class. Instead Myers is dealing with the likes of Chris Archer and Jose Iglesias.
Knobler also pointed out that in playing so few games, the performance on the field must be overwhelmingly better than the competition. And it has been.
Myers is hitting .326/.379/.525 with nine doubles, nine homers, 37 RBI, 29 runs and five stolen bases in his 47 games played. If he keeps up a pace like this, he'll dwarf the competition.
And if that happens, Myers will make history, becoming the position player with the fewest games played in a season to ever win the American League Rookie of the Year.