Pablo Sandoval says he shed 22 lbs. in six weeks thanks to his brother
More MLB: Scoreboard | Standings | Probable Pitchers | Sortable Stats | Odds
Giants third baseman Pablo Sandoval has struggled with his weight and conditioning his entire career, and the team has not so subtly taken issue with it. Earlier this year GM Brian Sabean publicly threatened to send him to the minors as a wake-up call, for example.
The 27-year-old Sandoval is listed at 240 lbs. on the team's official site, but the weights listed online are not to be trusted. Kung Fu Panda was likely pushing 300 lbs. on opening day, but that has changed in recent weeks. Sandoval hired his older brother Luis as his personal chef and claims to have lost 22 lbs. in the last six weeks. Andy Baggarly of CSN Bay Area has the scoop:
Sandoval revealed that he's dropped 22 pounds in six weeks, and he has his oldest brother, Luis, to thank for it. Luis Sandoval recently graduated from a culinary school in Miami and is under his little brother's full-time employment as his personal chef.

"Everything healthy," said the Giants' third baseman, who beat out an infield single for an important RBI in the club's 6-4 victory over the Miami Marlins Saturday night. "He goes with me everywhere."

(snip)

Pablo said everything he makes is tasty, but it's all healthy and sensibly portioned, too.
Luis, 36, is the oldest of three brothers and the only not to play baseball professionally. When asked why, Pablo joked "He's real bad ... Terrible."
Anyway, something like this requires a before and after photo, right? Let's see: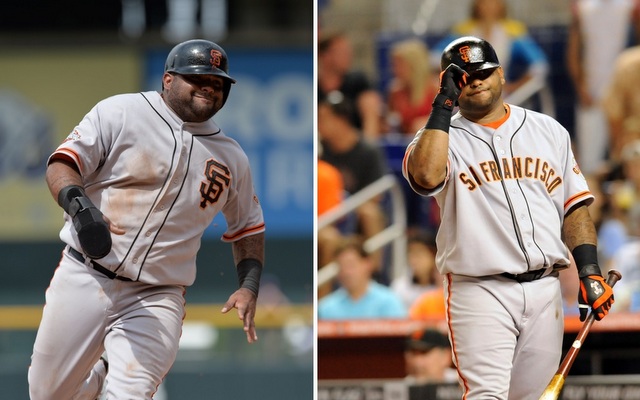 Photo selection was limited, but these will work for us.
The picture on the left was taken June 30th, more or less six weeks ago. The picture on the right was taken Saturday night during San Francisco's game against the Marlins. Twenty-two pounds isn't a whole lot for a guy Sandoval's size, but you can kinda see the weight loss in his face/neck and chest.
Sandoval credits the weight loss for helping him beat out an infield single the other day -- he said there was "no chance" he would have been safe a few weeks ago -- and acknowledged how important maintaining his weight is for himself and the team.
"It's going to be important for me to be in the same shape," he said to Baggarly. "I'll do the work I did after the (2010) World Series. It's important for me and for my teammates, too."
Sandoval was benched at times down the stretch and during the postseason in 2010 (99 OPS+), and he responded with an intense offseason workout routine that transformed his body. It helped him to a career-best 155 OPS+ in 2011. This year he is down to a 106 OPS+.
The Giants signed Sandoval to a three-year, $17.15 million contract extension prior to last year, and he's scheduled to become a free agent after the 2014 season. He's got a career 125 OPS+ at a hard-to-fill position and will only be 28 when he hits the open market, so a monster payday will come his way if he stays in shape and produces.
(h/t Hardball Talk)