WATCH: 'Bat-flip comeuppance' in Korea
More MLB: Scoreboard | Standings | Probable Pitchers | Sortable Stats | Odds
The celebratory bat-flip seems to be a bit of a thing these days. Depending on your perspective, it's either evidence of spirited involvement or a signifier of damnable manners.
For those who subscribe to the latter viewpoint, know that you'll enjoy what follows, which is a towering recent example of "bat-flip comeuppance." Straight from Korea ...
As we said: Bat-flip comeuppance, towering example.
And let's do take a moment to appreciate the bat-flip itself. Courtesy of Carson Cistulli of NotGraphs, here's the relevant GIF: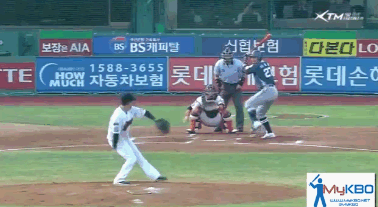 Such exuberance obviously made the nifty catch in the outfield all the more comeuppity (note: not a word).
(Winks of CBS eye: NotGraphs, @El_Josharino, @MyKBO)