Report: Miguel Tejada was also connected to Biogenesis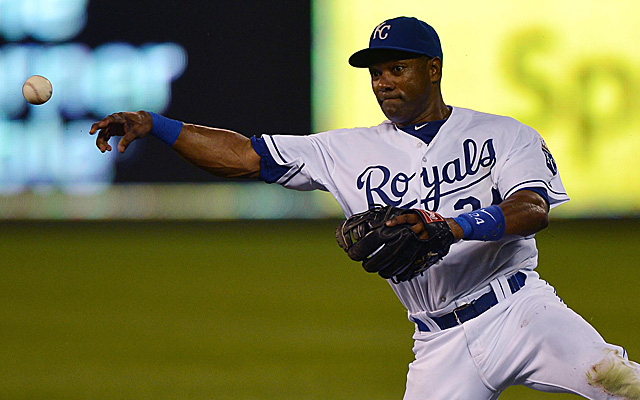 Related: Tejada suspended for amphetamines | Tejada case shows 'upside' of PED use
We learned Saturday that Royals infielder Miguel Tejada was suspended for 105 games for his second and third positive tests for amphetamines. Monday, ESPN.com is reporting that MLB also had the option to go after Tejada in the Biogenesis investigation that got Alex Rodriguez (pending appeal), Ryan Braun, Nelson Cruz, Jhonny Peralta and several others suspended.
Tejada, according to a source familiar with the case, was given the choice of either accepting the 105-game suspension for amphetamine use or face additional punishment for his Biogenesis connection. Tejada was allegedly a customer of Tony Bosch's shuttered clinic, which is at the heart of baseball's recent rash of suspensions. Bosch supplied evidence that Tejada had been a Biogenesis customer.
Tejada has now been tied to performance-enhancing drugs in the Mitchell Report, with this suspension and now Biogenesis -- in addition to several other accusations at different points in his career.
Tejada, 39, hit .288/.317/.378 with five doubles, three homers and 20 RBI for the Royals in 53 games this season as a utility infielder.
In his career, Tejada was an All-Star six times, won the AL MVP in 2002 and was one of the league's best players for a stretch of around five years. He's a career .285/.336/.456 hitter with 468 doubles, 307 homers and 1,302 RBI. He's made over $95 million during his playing career.
Though Tejada has said he doesn't intend to retire, it's hard to see him playing again due to age, performance and drug-related stigma.