Johan Santana intends to play again, says he 'isn't going out like this'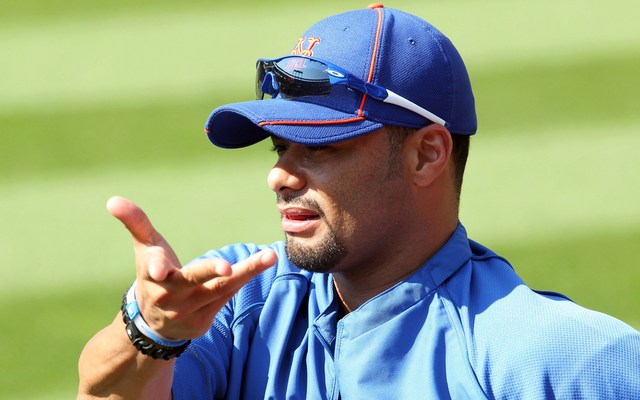 More MLB: Scoreboard | Standings | Probable Pitchers | Sortable Stats | Odds
Two-time Cy Young Award winner Johan Santana is currently rehabbing from surgery to repair a torn shoulder capsule, his second such procedure in the last three years. It's fair to wonder if the injury is career-ending at age 34, but the Mets left-hander has told his agent he "isn't going out like this," according to Andy Martino of the New York Daily News.
"He was able to drive his a kids lot sooner, and felt better when he did it," said Chris Leible, Santana's agent, to Martino. "For Johan to even be able to get a good night's sleep now is something. When he looks back now (on his recovery from 2010 surgery), he realizes it did not feel the way it was supposed to. He just gutted through it.
"He feels really good, which was not the case after the first surgery. He hopefully will be able to pick up a baseball when he returns (to his home in Fort Myers later in the summer)."
Santana had his surgery back in April. He had the first procedure in September 2010 and did not return to the big league team until opening day 2012. It would be a pleasant surprise if he's healthy in time for the start of next season.
In 21 starts last year, Santana went 6-9 with a 4.85 ERA (79 ERA+), his worst season since sticking in the big leagues full-time. He threw the franchise's first no-hitter on June 1, but struggled down the stretch before being shut down with ankle and back problems in mid August.
Santana will become a free agent once the Mets decline the $25 million club option in his contract after the season. It'll be interesting to see how teams approach him on the open market given the injury and his pedigree. He's likely looking at a one-year contract with a low base salary and incentives, maybe even a minor league deal. Some club figures to give him a shot, however.
Torn shoulder capsules are serious stuff. No pitcher has ever returned from the surgery and performed up to their previous standards. Chien-Ming Wang, Mark Prior, Dallas Braden and John Maine are among its victims. Santana has now torn his capsule twice.