NL Manager of the Year Watch: Hurdle remains the clear favorite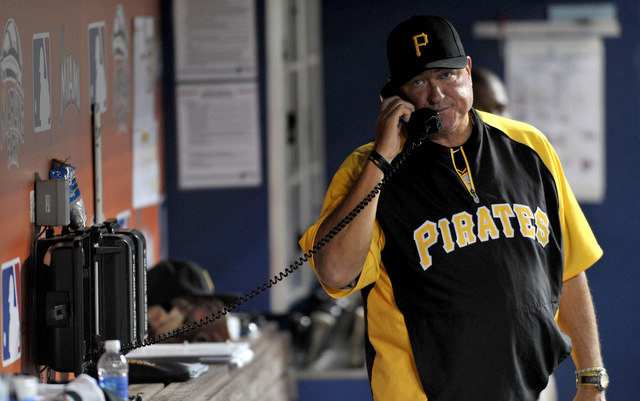 Awards Watch: NL MVP | AL MVP | NL Cy Young | AL Cy Young | AL Rookie | NL Rookie
Over the last few years, the Manager of the Year Award has morphed into nothing more than the "manager of the team that most exceeded expectations" award, really. A dramatic late-season comeback puts the proverbial cherry on top, as 2012 Bob Melvin and 2011 Joe Maddon can attest.
There's nothing wrong with that at all, and in fact it makes breaking down the Manager of the Year races rather easy. Our bi-weekly look at the various major award races continues today with the skippers, starting with the National League. Here's the breakdown:
Clint Hurdle, Pirates: The NL Manager of the Year line forms right behind this guy. The Pirates have the second best record in baseball and are a mere eight wins away from clinching their first winning season in two decades with 36 games to play. It's going to be a fight to the bitter end to remain atop the NL Central, but Baseball Prospectus gives Pittsburgh a 98.4-percent chance of playing in October. As soon as the Buccos clinch that winning season and a playoff berth, Hurdle's a shoo-in.
Fredi Gonzalez, Braves: The skipper of the team with the best record in baseball is always a prime Manager of the Year candidate. Gonzalez's team is going to clinch a spot in the postseason like, next week, and their 15-game lead in the NL East means there is no reason to panic following Jason Heyward's broken jaw. I suppose that huge lead and relatively easy month of September could work against Fredi -- voters love late-season drama -- but he belongs in the conversation.
Don Mattingly, Dodgers: It took a few months before things all fell into place, but Los Angeles is finally playing like the juggernaut most expected them to be when the season began. They've won an absurd 44 of their last 54 games to go from last place and 9.5 games back to first place and 8.5 games up in the NL West. Maybe the team's payroll works against Mattingly, but he deserves major props for weathering the early-season storm. Remember, team president Stan Kasten told Donnie Baseball he might be fired back when the team was struggling. That can't be an easy thing to deal with.
Dusty Baker, Reds: I thought Cincinnati would cruise to the NL Central crown when the season started, but instead they've spent most of the summer trying to catch up to the Pirates and Cardinals. The Reds have now won 11 of their last 15 games and shaved four games off their division deficit -- they now sit just 2.5 games back of Pittsburgh. If they manage to continue this surge and win the NL Central, forget it. Baker's getting a ton of votes. More than Hurdle? Probably not, but Dusty would get a ton of credit for the late-season turn-around.