Injuries and the Indians could cut Cabrera's Triple Crown pursuit short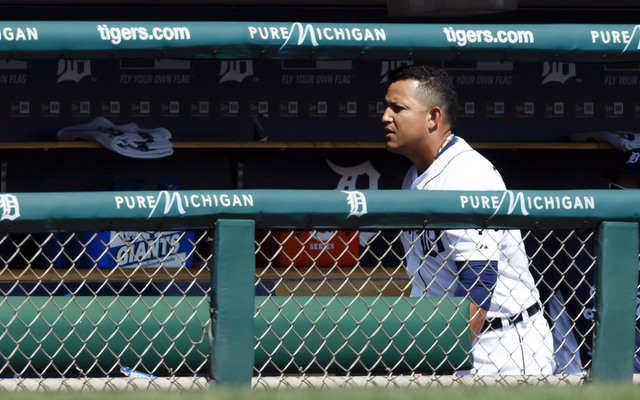 More MLB: Scoreboard | Standings | Probable Pitchers | Sortable Stats | Odds
Torii Hunter's walk-off three-run homer helped the Tigers avoid a four-game sweep at the hands of the Athletics on Thursday noon, but the big story of the day was Miguel Cabrera's latest injury. The reigning AL MVP left the game with "discomfort" in his abdomen after sliding into second base and is day-to-day.
Cabrera, 30, has been playing through a left hip flexor strain and an abdominal issue for several weeks. He also fouled two pitches off his leg against Mariano Rivera three weeks ago and spent a few days hobbling around the bases. This last month or so has been very tough on Cabrera physically.
Despite all that, the man is a hitting machine. He came into Thursday leading all of baseball with a .357 average and 130 RBI, and he's only four home runs behind Chris Davis. A second consecutive Triple Crown, something that has never happened before in history, is well within reach. That is, if the injuries and his team's success don't get in the way.
Following Thursday's win, the Tigers have a comfortable six-game lead over the Indians in the AL Central. It's not a huge lead with a month to play -- the Tribe do have a cupcake schedule down the stretch -- but it's comfortable. Not the kind of lead you can lose in a weekend. Detroit and Cleveland will meet for three games starting Friday, giving the Tigers a chance to really put the division race to bed.
If Detroit can take advantage, they could have a playoff spot and the AL Central crown wrapped up with a week or more left to play. That would give them a chance to line up their playoff rotation and, more importantly, rest Cabrera so he can get over those nagging injuries before the postseason. If Miggy gets a few games off late in the year, his Triple Crown chances will take a hit. The Orioles don't figure to have the same luxury with Davis, who will get the entire schedule to pad his homer total.
Two straight Triple Crowns would be a marvelous and historic achievement, but you know the Tigers and Cabrera are focusing on a World Series title. If they get an opportunity to rest and get him healthy down the stretch, even for just a game or two, they would surely take advantage and rightfully so. Oddly enough, the one thing that may be standing in the way of another Triple Crown is the Indians and their ability to stay in the AL Central race.