Angels could soon drop 'of Anaheim' from official team name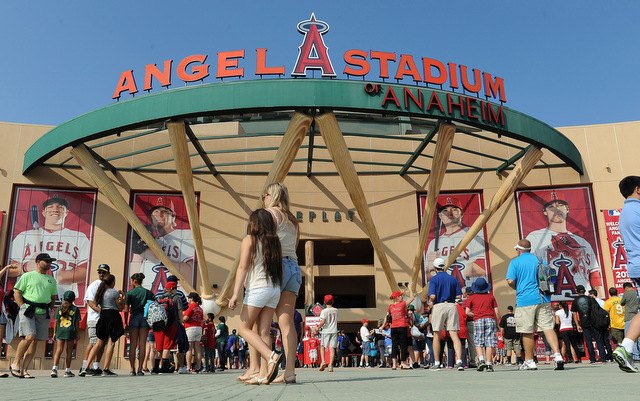 More MLB: Scoreboard | Standings | Probable Pitchers | Sortable Stats | Odds
The Angels and the Anaheim City Council could soon enter lease negotiations that would keep the team in the city through 2057, reports Bill Shaikin of the Los Angeles Times. The deal would also allow the club to drop the "of Anaheim" from their official team name.
The franchise changed its name from "Anaheim Angels" to "Los Angeles Angels of Anaheim" prior to the 2005 season. The word "Anaheim" had to appear in the team name in order to satify a lease provision. The team would simply be known as the "Los Angeles Angels" under the new deal.
The city is expected to vote Tuesday to enter negotiations. Under the proposed deal, the team would pay for a major renovation of Angels Stadium while owner Arte Moreno would be allowed to rent land surrounding the park for $1 annually while securing the development rights for 66 years.
Angel Stadium opened in 1966 and is the fourth oldest stadium behind Fenway Park, Wrigley Field and Dodger Stadium. The new agreement would keep the team in the ballpark through 2057 with opt-outs in 2036 and 2050. Angel Stadium was renovated in 1996-97 with then-owner Disney footing most of the $118 million cost.
The Angels can opt out of their lease in 2016 and Tuesday's vote would extend the window to 2019, giving the team more time to hammer out a more complex agreement.
The franchise was originally called "Los Angeles Angels" from 1961-64. They switched to "California Angels" in 1965 before becoming the "Anaheim Angels" in 1997.