Joe Kelly has been carrying the Cardinals rotation in the second half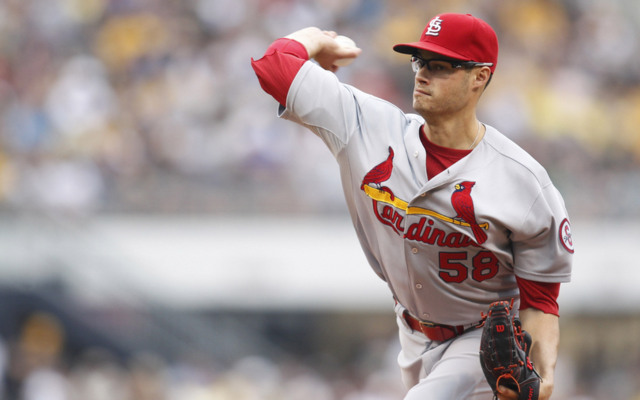 More MLB: Scoreboard | Standings | Probable Pitchers | Sortable Stats | Odds
For the second time in as many starts, Cardinals ace Adam Wainwright got rocked by the Reds on Monday afternoon. After tagging him for nine runs in just two innings last week, Cincinnati hung six more runs on Wainwright in six innings of work. That's 15 runs in eight innings, raising his season ERA from 3.58 to 3.14 in the span of two starts.
As a staff, the St. Louis rotation has a 4.35 ERA and 1.45 WHIP in the second half following Monday's dud from Wainwright. That comes after posting the second best ERA (3.33) and WHIP (1.18) in baseball in the first half. If it wasn't for young right-hander Joe Kelly, the second half picture would be even more grim:
2013 Cardinals Rotation Since All-Star Break
Starter
Starts
Innings per Start
ERA
WHIP
Joe Kelly
8
5.8
1.72
1.40
Lance Lynn
9
6.1
4.91
1.47
Shelby Miller
8
4.9
3.66
1.37
Adam Wainwright
9
6.7
4.80
1.30
Jake Westbrook
6
5.8
6.23
1.70
Tyler Lyons, Michael Wacha, Carlos Martinez
4 total
5.2
4.35
1.55
Kelly has certainly kept the runs off the board since the All-Star break, but his performance is somewhat worrisome because he is allowing a ton of base-runners. A 1.24 K/BB ratio doesn't exactly inspire confidence either.
The Cardinals have a very deep farm system -- Lyons, Wacha and Martinez have been okay in spot start duty -- but it's easy to understand why the team poked around on Jake Peavy and a few other starters prior to the trade deadline. I expect Wainwright and, to a lesser extent, Lynn to turn things around and right the ship, but St. Louis needs that to actually happen if they want to win the NL Central and avoid a winner-take-all wild-card game. It's tough to win with a rotation performing that poorly collectively.