R.I.P., 2013 Seattle Mariners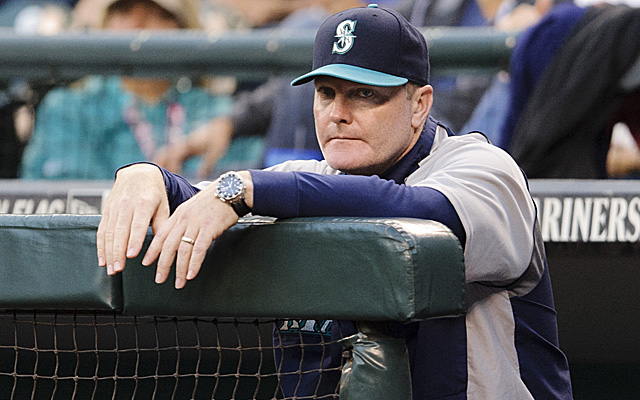 RIPs: Astros | Marlins | White Sox | Cubs | Brewers | Mets | Giants | Rockies | Twins | Phillies | Padres
The Seattle Mariners have joined a growing list (see above!) of teams to be mathematically eliminated from postseason contention in 2013. So it's time to mourn the unsuccessful season that was.
What went right
Kyle Seager has developed into a very good player and is one of baseball's more underrated players. Raul Ibanez continued basking in the fountain of youth, posting one of the best 41-year-old seasons in baseball history. Kendrys Morales also had a great season at the plate. King Felix did King Felix things for the most part and Hisashi Iwakuma had a very productive season on the hill.
There were also some good signs from younger players. Danny Farquhar has been a good closer since taking over the role. Nick Franklin flashed good power. Brad Miller has been a quality hitter at times. Justin Smoak and Dustin Ackley have shown some hints of promise. Finally, promising pitching prospects James Paxton and Taijuan Walker have been good in limited action.
What went wrong
Overall, it's still a really bad team. Entering Monday's action, the Mariners ranked 13th in the AL in runs and 13th in team ERA. So they are bad at hitting and pitching. What's worse, the Mariners abandoned a formerly good defense in desperation to get better offensively. So now they're bad at hitting, pitching and defense. Pretty hard to win games that way, no?
MVP: Felix Hernandez is the chalk pick every year, but thanks to an extended slump -- 6.42 ERA in his last six starts -- he's not the pick in 2013. That honor goes to Iwakuma, who is 12-6 with a 2.87 ERA and 1.03 WHIP. Seager warrants mention here, too.
LVP: General manager Jack Zduriencik has been on the job since the end of the 2008 season. The Mariners have seen zero improvement in that time under his watch, despite having already had a franchise centerpiece in place. Considering all the failed attempts at beefing up the offensive personnel from outside the organization in addition to the problems with developing their own quality offensive players, the blame has to fall at the top.
Free agents to be: C Henry Blanco, C Humberto Quintero, OF Endy Chavez, OF Franklin Gutierrez (club option), OF/DH Raul Ibanez, DH Kendrys Morales, SP Joe Saunders (option), RP Oliver Perez
Gameplan heading into offseason
The offense must be upgraded, perhaps massively. Then again, they've been trying to shore up the offense for several years without success for varying reasons. Regardless, they have corner outfield spots and probably DH to fill via free agency or trade. The starting rotation has a chance to be good with quality rookie campaigns from Paxton and Walker and the bullpen has some good pieces, so the Mariners need to focus on power at the corners. They cannot, however, do it at the expense of the defense. A better defense would certainly help make the pitchers' numbers look better.
Could they make a run at Shin-Soo Choo? That would be a great fit at a corner outfield spot. Hunter Pence and Nelson Cruz could also be on the open market.
Otherwise they have to give the likes of Franklin, Miller, Paxton, Walker, Mike Zunino and probably Smoak and Ackley -- yet again -- the chance to develop at the big-league level.
Ridiculously premature prediction for 2014
For the ninth time in 11 seasons, the Mariners will again finish in fourth place. They just don't have enough to turn the tide just yet and have all kinds of problems wooing big-time free agent hitters.