Cardinals crush Pirates in Game 1 of NLDS: Quick hits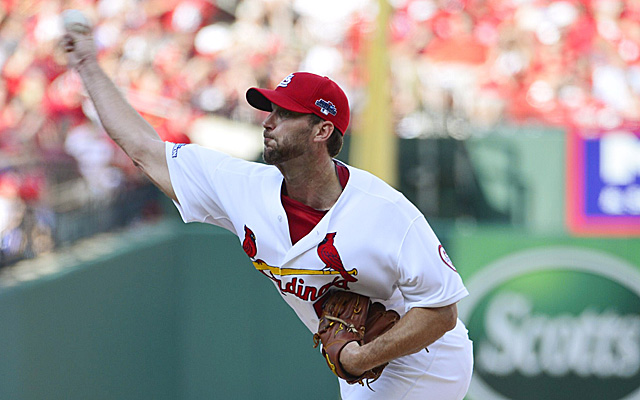 Snyder: Beltran's Hall of Fame case strengthened by insane postseason numbers
The St. Louis Cardinals are now up 1-0 in the best-of-five National League Divisional Series against the Pittsburgh Pirates after an absolute drubbing late Thursday afternoon. When the dust settled, it was 9-1 Cardinals. Of course, the only count that really matters is the 1-0 series mark. Let's take a look at how we got here.
Hero: While Carlos Beltran had the big offensive blow, starting pitcher Adam Wainwright did what playoff aces are supposed to do: He dominated. In seven innings. Wainwright gave up only three hits and one run (a solo homer to NL home run champion Pedro Alvarez) while striking out nine and walking no one. He was in control from start to finish, beginning the game with 3 2/3 perfect innings and generally making Pirates hitters look silly against his nasty curve.
Goat: On the other hand, A.J. Burnett was horrible. He coughed up seven runs on six hits and four walks in just two-plus innings. He also hit a batter. He gave up all seven runs in the third inning without recording an out, which included walking in a run. He also failed to record a strikeout. What's worse than the Game 1 loss is that the Pirates had to get six innings of bullpen work with Game 2 coming less than 24 hours later. So now the pressure shifts to Friday's starter, Gerrit Cole.
Turning point: Beltran's three-run homer to get things started in the third. Burnett had looked rocky up to that point, but no damage had been done. And with one swing of the bat, it was now 3-0 and Burnett was in serious trouble. The game started to feel over at this point.
It was over when: When David Freese singled to right field, scoring two runners and then Marlon Byrd's throwing error allowed a third run to score. That made it 7-0 with no outs in the third. While the Pirates faced an uphill battle before that, a four-run deficit might have been workable eventually -- but once it ran to seven with Wainwright on the hill, that was it. Ballgame.
Next: The Pirates won't have long to nurse their wounds, as Game 2 is set for 1:07 p.m. ET (12:07 p.m. ET local time in St. Louis). It'll be Gerrit Cole (10-7, 3.22) looking to get the Pirates back on track against Lance Lynn (15-10, 3.97).