ALDS Red Sox-Rays Game 1 preview: Lester vs. Moore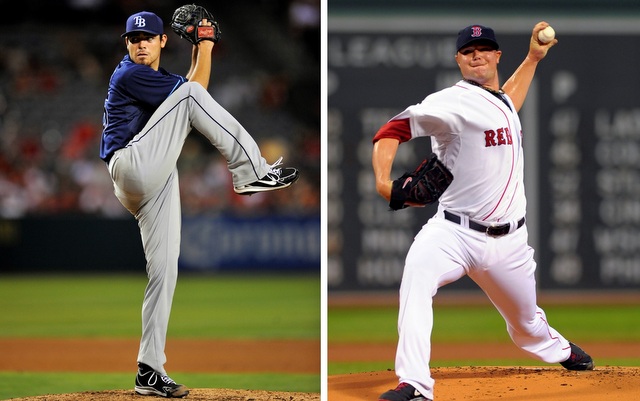 Who has the edge? Pirates-Cardinals | Dodgers-Braves | Tigers-A's | Rays-Red Sox
After a week-long layoff, the Red Sox are finally ready to get the playoffs started. They've been holding intra-squad scrimmages to stay sharp while the Rays have been playing for their season, first in Monday's tiebreaker game against the Rangers and then in Wednesday's AL wild-card game against the Indians. Tampa Bay won both do-or-die games to advance to the best-of-five ALDS.
Needless to say, the two AL East rivals are very familiar with each other. The Red Sox won 12 of 19 head-to-head meetings with the Rays this season, including six of nine games at Fenway Park. This series will open in Boston -- the Red Sox finished with the best record in the AL and have home-field advantage throughout the postseason -- at 3:07pm ET on Friday.
The weather.com hourly forecast isn't good at all. It has been raining in Boston for much of the morning -- batting practice was cancelled for both teams -- and although it's supposed to clear up in time for first pitch, the rain is expected to return around 3:00pm ET. If the game has to be postponed due to weather, the makeup game would presumably be played during Sunday's scheduled off-day.
The Game 1 starters are a pair of hard-throwing southpaws: 29-year-old Jon Lester (15-8, 3.75 ERA, 1.29 WHIP and 2.64 K/BB in 213 1/3 innings) and 24-year-old Matt Moore (17-4, 3.29 ERA, 1.30 WHIP and 1.88 K/BB in 150 1/3 innings). Let's break down the matchup:
Lester vs. Rays
With some help from former pitching coach and current manager John Farrell, Lester rebounded from a dreadful 2012 this year. He was considerably more effective at home (3.09 ERA and 1.16 WHIP) than on the road (4.21 ERA and 1.39 WHIP) this season, which is impressive considering how hitter-friendly Fenway Park can be.
Lester has been around for a while now, so he and the Rays have plenty of history. He went 2-1 with a 4.32 ERA and 1.44 WHIP in five starts against them this season, and he owns a career 12-9 record with a 4.30 ERA and 1.32 WHIP in 26 career starts against his southern-most division rival. There are no secrets here; both sides know what to expect from each other.
Long-time Rays Evan Longoria and Ben Zobrist have very different career numbers against Lester. Longoria has four home runs and a .861 OPS in 63 plate appearances against the southpaw while Zobrist has just one homer with a .569 OPS in 54 plate appearances. With a 1.025 OPS in 26 plate appearances, Desmond Jennings has done some damage against Lester. Small sample size caveats obviously apply.
Players currently on the Rays roster have hit .227/.308/.364 against the Red Sox lefty. That covers 352 plate appearances. It's worth noting Lester finished the regular season very well, with a 2.19 ERA and 1.14 WHIP in his final 10 starts.
Moore vs. Red Sox
Moore only has two full seasons to his credit, so he doesn't have a ton of experience against the Red Sox. He has managed a 2-2 record with a 3.86 ERA and 0.99 WHIP in four starts (and one relief appearance) against Boston in his career, including a 1-1 mark with a 3.44 ERA and 1.04 WHIP in two starts (and that one relief appearance) in Fenway Park.
Despite the whole left-on-left thing, David Ortiz has gone 6-for-13 (.462) with two doubles and a homer (1.346 OPS) in his career against Moore. Righties like Dustin Pedroia (.414 OPS in 15 plate appearances), Jonny Gomes (.417 OPS in 12 plate appearances) and Mike Napoli (.311 OPS in 10 plate appearances) have been much less successful.
Moore struggled to throw strikes in September, walking 20 batters in 29 innings. He still managed a 2.69 ERA in six starts, however. The Red Sox ranked third in baseball with 581 walks, so expect them to take a patient approach and see if the southpaw is willing to work himself into trouble.
Players on the Red Sox roster own a career .157/.205/.253 batting line against Moore with 21 strikeouts and only four walks.