Grading the Friday LDS action: Red Sox pass with flying colors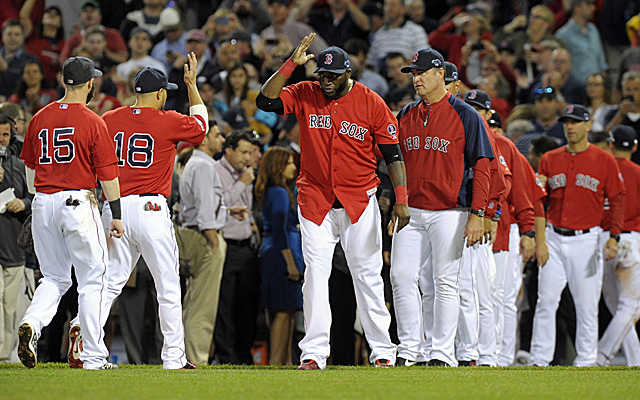 More: Red Sox and the art of hitting doubles | Time to panic in Oakland?
One epic day of four playoff games is now in the books. So let's throw around some grades. Tonight, we'll throw out one of each of the five letter grades -- maybe with a plus or minus -- just because it's fun. So let's do it.
| Team | Grade | Analysis |
| --- | --- | --- |
| | A+ | The Red Sox offense. During the regular season, the Rays -- thanks to a solid pitching staff and plus team defense -- gave up fewer than 4.00 runs per game. On Friday in Game 1, however, they hemorrhaged 12 runs in Fenway. Over eight innings (Boston didn't bat in the home half of the ninth, of course), the Sox batted .368, tallied 14 hits, smacked five doubles, went 8-for-17 with RISP and hung a 14.54 ERA for the game on starter Matt Moore. "Ritual abuse" is what they call that. - Dayn Perry |
| | B+ | Down one game-to-none in the best-of-five series? Facing the best offense in the league? On the road in their ballpark? No problem for Pirates rookie Gerrit Cole, who pitched his team back even in the NLDS with six dominant innings against the Cardinals in Game 2. He allowed just one run on two hits and a walk, striking out five and retiring 11 batters in a row at one point. The series is now knotted at one and heading back to Pittsburgh for Game 3, where Francisco Liriano awaits. Cole came up big on Friday. - Mike Axisa |
| | C | This is for the entire Dodgers offense. It wasn't a particularly dreadful game by any stretch. They were facing a very good starting pitcher in Mike Minor and one of baseball's best bullpens. They collected 10 hits, which is pretty solid under the circumstances. But if anyone but Hanley Ramirez steps up, the Dodgers are headed back home with a menacing 2-0 lead in a best-of-five series. Instead, they grounded into two double plays and left eight runners on base. That's not good enough. - Matt Snyder |
| | D | Yoenis Cespedes went 2-for-4 with a triple and a home run. On said homer, he drove home the only two runs the A's scored. This coming against the best pitcher in the American League this season, Max Scherzer. So he prevents his entire team from getting an F. Here's why the A's got a D: If you remove Cespedes, the A's were 1-for-26 with 14 strikeouts. Coco Crisp drew three walks, but other than him and Cespedes, the only A's baserunner was Brandon Moss, who reached on an infield single. Again, this was an obvious F if not for Cespedes -- and, to be fair, Crisp to an extent. - Matt Snyder |
| | F | The Rays. All of them and in every aspect. Matt Moore got shelled. Reliever Jamey Wright gave up four runs of his own. The vaunted defense fell apart in the fourth inning and at various other points. The lineup allowed Jon Lester to settle in and cruise after touching him for a pair of solo homers. Even manager Joe Maddon erred, as he was too slow to lift the plainly laboring Moore. That's an F game all around. - Dayn Perry |