Red Sox advance to ALCS after beating Rays to win ALDS: Quick hits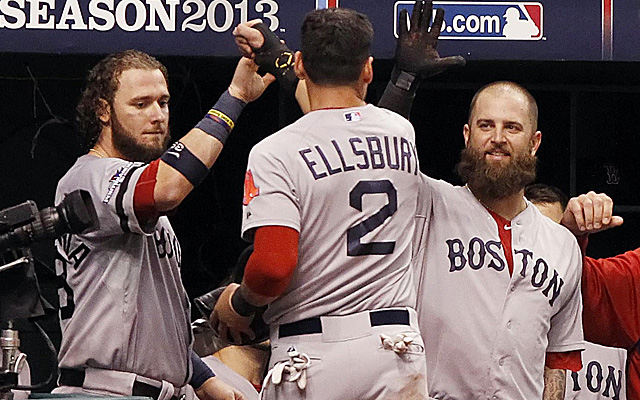 The Boston Red Sox are going back to the American League Championship Series, riding an impressive, 3-1, Game 4 victory in Tampa on Tuesday. That also gives the Red Sox a 3-1 win in the best-of-5 series, and sends the Rays home for the offseason.
Hero: Really, no one stood out as a glaring hero here. We could talk about the entire pitching staff, only giving up one run with such small margin for error, but no one really starred -- sorry, Jake Peavy, you have to get through at least six innings in a start to be considered for hero status. Craig Breslow's four straigt strikeouts were noteworthy. Jacoby Ellsbury had a huge single, stolen base and run scored. John Farrell pulled all the correct strings with his pitching staff. Pick one. I don't really think there was one above and beyond. This was a total team effort.
Goat: Joel Peralta. Rays manager Joe Maddon's "Johnny Wholestaff" approach was actually working like a charm until the top of the seventh. Then Peralta came in and walked Xander Bogaerts before giving up a single to Jacoby Ellsbury. On his first pitch to Shand Victorino, he uncorked a wild pitch, allowing the tying run to score and Ellsbury -- who broke on the pitch -- to get all the way third base. Ellsbury would then score on an infield hit from Victorino and just like that, the Red Sox had the lead.
Turning point: The wild pitch. It came with two outs and the Rays leading 1-0. Peralta just needed to get one out and the Rays were still clinging to a 1-0 lead. Instead, it was tied, the Rays were looking at a nearly depleted bullpen and speedy Ellsbury was now only 90 feet away from giving the Red Sox the lead.
It was over when: After seeing Jose Lobaton launch an unlikely walkoff homer Monday night, we know better than to say a close game was over until the final out was recorded. Koji Uehara got it done with the four-out save.
Next: The Red Sox advance to the ALCS for the first time since 2008, when they lost in seven games to the Rays. They await the winner of Thursday's Game 5 between the Tigers and A's, but we already know the Red Sox have home-field advantage. So they'll await Game 1 in Fenway Park while sitting at home. The start of that series is set for this coming Saturday, Oct. 12. There's no time yet, since we don't know all the teams -- and NLCS Game 2 is also Saturday. Expect either the 5 p.m. ET range or 8 p.m. ET range.