A's starter Jarrod Parker getting MRI on throwing elbow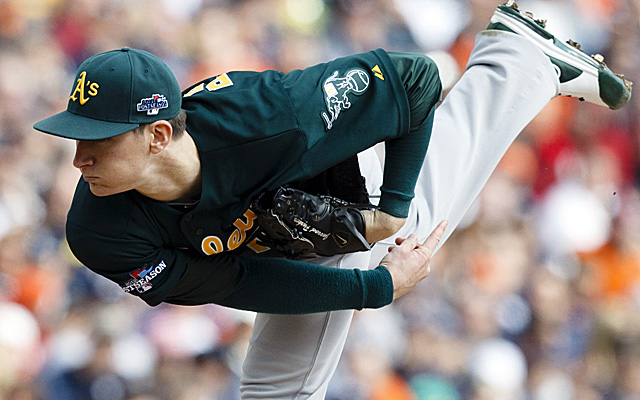 Athletics 2013 R.I.P. | Sonny Gray suffered broken thumb
A day after being eliminated from the American League Division Series by the Tigers, Athletics manager Bob Melvin met with the club's beat reporters, which is standard practice. Among the topics covered was that starting pitcher Jarrod Parker needs to have an MRI on his right elbow.
Jarrod Parker getting an MRI on elbow. Was feeling tightness, but not to the extent when he had Tommy John, Melvin says.

— Jane Lee (@JaneMLB) October 11, 2013
That's good news that it isn't to the extent as when he needed Tommy John surgery, but it's still troubling that there's tightness in the same elbow in which he had that procedure in 2009. The issue arose during Parker's Game 3 start against the Tigers and his status had the A's advanced was thought to be questionable.
Parker, 24, was 12-8 with a 3.97 ERA, 1.22 WHIP and 134 strikeouts in 197 innings pitched this regular season. In Game 3, he went five innings, allowing three runs on five hits while striking out one.