Red Sox bullpen the unsung hero in dramatic Game 2 win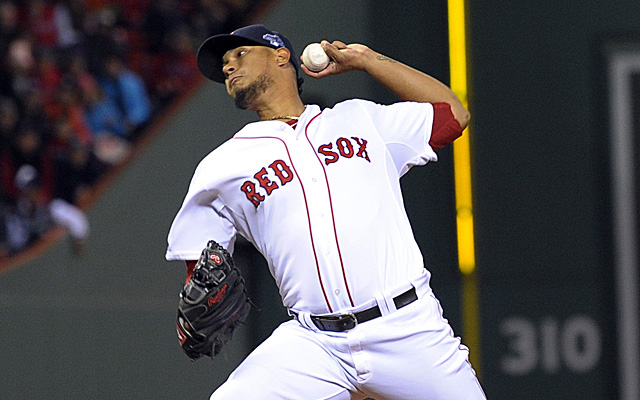 More ALCS: Game 2 quick hits | Game 2 grades | Who has the edge?
BOSTON -- The Red Sox were four outs away from being down two games-to-none in the ALCS when David Ortiz hit his colossal game-tying grand slam off Joaquin Benoit in Game 2 on Sunday night. About 15 minutes later, Jarrod Saltalamacchia slapped a ground ball single through the left side for the walk-off win.
Ortiz and Saltalamacchia are the obvious heroes in Game 2 while the Tigers bullpen as a whole is the obvious goat. The Red Sox probably don't win without their unsung hero though. It's not Dustin Pedroia for doubling in the first run or Jonny Gomes for reaching base on an infield single leading off the ninth. No, the unsung hero was the Boston bullpen.
Starter Clay Buchholz did a fine job matching Max Scherzer through the first five innings before completely imploding in the sixth. Three straight extra-base hits and four in the span of five batters turned a one-run deficit into a five-run deficit in that sixth inning, ending Buchholz's night. He finished the game with five runs allowed on eight hits in 5 2/3 innings. Not a good outing. Not at all.
Once Buchholz had made his mark, three relievers combined to throw 3 1/3 innings of scoreless and hitless relief. Brandon Workman took over in the sixth and immediately walked the first man he faced, but 10 of the next 11 Detroit batters made outs. The only exception was a two-out walk issued by Felix Doubront in the eighth. Koji Uehara, the team's all-world closer, chucked a perfect ninth for the win.
The Tigers and Red Sox are two pretty evenly matched teams offensively and in the rotation, but there's a major difference in the bullpen and it showed in Game 2. Boston has quality arms in spades, guys who come in and shut the other team down in all situations, with a lead or when they're trialing and need to keep the game close. The Tigers don't have that luxury. They survive the ends of their games more than anything.
Ortiz and Saltalamacchia are sure to receive and ton of praise for their heroics and deservedly so. But those two guys don't get a chance to be heroes without the work of Workman, Doubront and Uehara. They kept the Red Sox in the game after Buchholz fell apart. Allowing the Tigers to tack on more runs would have really put the game out of reach, but it didn't happen. Now the series is tied heading back to Detroit and only one of the two teams will enjoy their flight.