Eye on Photos: Cardinals top Dodgers in 2013 NLCS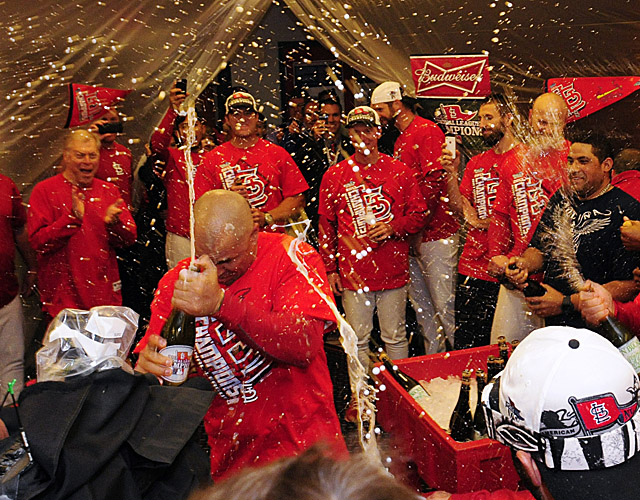 The St. Louis Cardinals are in the World Series for the second time in the past three seasons, as they've toppled the Los Angeles Dodgers in the NLCS, four games to two. Here's a look at the series in pictures.
NOTE: Click on any individual photo for a full-size version.
| | |
| --- | --- |
| | |
| The pitch that broke Hanley Ramirez's rib in Game 1 may have been the biggest pitch of the series. (Getty Images) | Andre Ethier was unable to corral this Carlos Beltran fly ball, meaning the Cardinals would tie the game, 2-2, in the third. (USATSI) |
This is Dee Gordon, who pinch ran for Adrian Gonzalez, being forced out at second in Game 1. Gonzalez's spot in the order would come up twice more with runners in scoring position. Neither time did the Dodgers score and they lost in 13 innings. (

USATSI

)
Beltran threw out Mark Ellis at home in the top of the 10th, with Yadier Molina standing his ground. Had Ellis scored, the Dodgers would have been in position to win Game 1. (

USATSI

)
David Freese, scoring the lone run in Game 2. (

USATSI

)
Molina and three really, really impressive young pitchers. (

USATSI

)
Yasiel Puig's Game 3 celebration at third base wasn't popular in St. Louis. (Getty Images)
The bear! (

USATSI

)
Nick Punto got picked off second in Game 4 in a colossal baserunning error. (

USATSI

)
Of all people, it was Shane Robinson who provided the insurance home run for the Cards in Game 4. (

USATSI

)
The 'Mickey Mouse' ears. Because why not. (

USATSI

)
Hardcore baseball fans knew who Michael Wacha was before this series. Now even the most casual fans do. (

USATSI

)
Cardinals fans love them some Puig. (

USATSI

)
Clayton Kershaw's walk of shame highlights his terrible Game 6 outing. (

USATSI

)
Cardinals manager Mike Matheny has his first NL title. (

USATSI

)
Wacha is the MVP. (

USATSI

)